---
---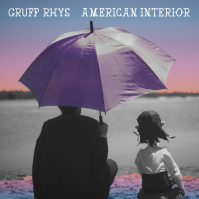 Format
Label
---
American Interior
---
American Interior is a unique project that firmly establishes Gruff Rhys as a captivating storyteller, blurring the boundaries and possibilities of songwriting, music, literature, film and technology to create a multisensory experience telling the incredible true story of John Evans.

In 1792, John Evans, a twenty-two-year-old farmhand from Snowdonia, Wales, travelled to America to discover whether there was, as widely believed, a Welsh-speaking Native American tribe - The Madogwys - still walking the Great Plains.

During the course of an extraordinary adventure, Evans wrestled the largest river reptiles ever seen in the Mississippi, hunted Bison with the Omaha tribe, defected to the Spanish in St Louis, discovered imaginary volcanoes in Missouri, annexed North Dakota from the British, and created the map that guided Lewis and Clark on their legendary expedition.

In the summer of 2012, over two hundred years later, Gruff – himself a distant relative of Evans - retraced the explorer's route through the heart of the continent by means of an "Investigative Concert Tour ™" - a series of solo gigs that saw him accompanied by little more than acoustic guitar, PowerPoint presentation and a three-foot high felt avatar of John Evans designed by artist and long-time collaborator Pete Fowler.
Tracklist
1. American Exterior
2. American Interior
3. 100 Unread Messages
4. The Whether (Or Not)
5. The Last Conquistador
6. Lost Tribes
7. Liberty (Is Where We'll Be)
8. Allweddellau Allweddol
9. The Swamp
10. Iolo
11. Walk Into The Wilderness
12. Year Of The Dog