---
---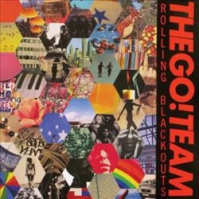 Format
Label
---
Rolling Blackouts
---
The release of Rolling Blackouts from Brighton-based sextet The Go! Team has unfortunately coincided with one of the glummest spells of weather in recent memory, though you shouldnt let this jarring juxtaposition cloud your enjoyment of what is a triumphant, exuberant listen. As the world of alternative music becomes more restrained, serious and preening, the uplifting lack of self-awareness and pretence found in Brighton sextets third hits like a ray of sunshine cutting through the aforementioned weather. Here, rather than reinventing the (probably brightly-coloured) wheel, The Go! Team have instead refined everything that makes them such a loveable band on album number three.
Clattering right out of the starting blocks, opening track T.O.R.N.A.D.O. shows us that its going to be business as usual for The Go! Team, as the cheerleader chanting and sassy hip-hop rhythms of yore collide with a blasts of brass. This pulse-raising opener leads comfortably into the albums first single- the gleaming Secretary Song, which provides a neat summary of the band: infectious, beaming and unashamedly fun. Tracks like the urgent Apollo Throwdown, the triumphantly marching Bust-Out Brigade, the buzzing, excitable title track and the breezy Buy Nothing Day (which features an excellent guest vocal from Best Coasts Bethany Cosentino, suggesting that she could find a second career as a go-to girl for injecting carefree energy into any song shes asked to) continue in a similar sugar-rush vein. Yet whereas previous release Proof Of Youth became exhausting, there is enough variation between these peppy highlights to keep them refreshing rather than exhausting. These highlights have enough strength to rival the groups debut effort Thunder, Lighting, Strength and should soon become live staples.
Following this, The Go! Team branch out and find different ways to interject the fun into our day-to-day, with the more mid-pace Super Triangle, the steel-drum lead Voice Yr Choice and the sweeping Yosemite Theme showing the band setting foot into bold new territory, which yields stirring results.
Rolling Blackouts shows a band in fine form with a wealth of ideas at their disposal, coasting by with no need for trendy haircuts or high concepts, just grand songs and the excitement of making music. Now we just need to wait for the sun to make its return so the album can be enjoyed in optimum conditions.