---
---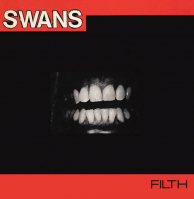 Format
---

STUMM376

Long Player

£18.00
Label
---
Filth
---
The first album by the no wave legends sees new life.
Michael Gira and Swans established their blistering, iconic sound with the 1983 release of debut album Filth, and while the album was repressed in 1990 by Gira's Young God and released as part of a CD release in 2000, it has been out of print for some time.
Until now, that is: Filth has been re-mastered and will be re-released on vinyl!
Tracklist
1. Stay Here
2. Big Strong Boss
3. Blackout
4. Power For Power
5. Freak
6. Right Wrong
7. Thank You
8. Weakling
9. Gang