---
---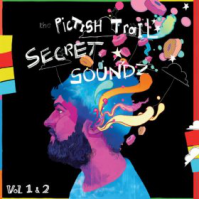 Format
---

MOSHILP59

Long Player

£18.00

X

Limited Gatefold Vinyl
Label
---
Secret Soundz Vol 1 & 2
---
*Comes with limited bonus disc for all pre-orders*
Johnny Lynch, aka The Pictish Trail, is something of a conundrum. On first impressions, he's a self-deprecating hairy hobo whose on-stage banter could give many comedians a run for their money. But once he begins to sing, Lynch's extraordinary vocals reveal hidden depths that can subdue the most rowdy of audiences into a blissfully hypnotised silence.
Having recently signed to Moshi Moshi Records, Lynch is pleased to announce that his gloriously eclectic and critically acclaimed albums Secret Soundz Volumes 1 & 2 will be getting a full release on June 9th. The double album will be available on limited gatefold 12" vinyl and gatefold CD.
Lynch's eloquent songs are as wildly varied as his selection of brightly coloured bobble hats. His distinctive voice has been accompanied by everything from acoustic guitar to a full-on four piece metal band to throbbing dance beats and samples, and often during the course of the same gig.
Tracklist
Secret Soundz Vol. 1:

1. Secret Sound #2
2. All I Own
3. I Don't Know Where To Begin
4. Secret Sound #1
5. Words Fail Me Now
6. Ribbon (The Twist)
7. Winter Home Disco
8. The Lighthouse
9. Into The Smoke
10. Secret Sound #5

Secret Soundz Vol. 2:

1. Secret Sound #6
2. Sequels
3. Of Course You Exist
4. The Handstand Crowd
5. Wait Until
6. I've Been Set Upon
7. Michael Rocket
8. Secret Sound #7
9. I Will Pour It Down
10. Long In The Tooth