---
---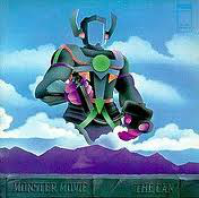 Format
---

XSPOON4

Long Player

£18.00
Label
---
Monster Movie
---
Monster Movie is the debut album of Can, recorded and released in 1969. The use of improvisation, experimentation, editing and layering of sounds set a standard for Can's subsequent albums in the early 1970s, which were seminal to the freewheeling avant-garde style dubbed "krautrock" by the British music press.
The album is credited to "The Can", a name suggested by vocalist Malcolm Mooney and adopted by democratic vote. Previously the band had been known as "Inner Space", which later became the name of their purpose-built recording studio. Some copies of the LP bore the subtitle "Made in a castle with better equipment", referring to Schloss Nörvenich, the 14th-century castle in North Rhine-Westphalia where the band recorded from 1968-69.
The 20-minute jam "Yoo Doo Right" was pared down from 6 hours' taping, while the lyrics of "Mary, Mary So Contrary" riff off of Mary, Mary, Quite Contrary, a popular English nursery rhyme.
Monster Movie was the only Can album on which Malcolm Mooney performed all of the vocals until Rite Time, 20 years after.
Tracklist
Father Connot Yell
Mary, Mary, So Contrary
Outside My Door
Yoo Doo Right