---
---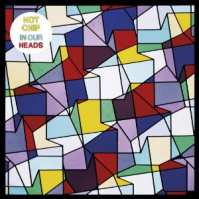 Formats
---

---

---

X

Indie Only gatefold double LP with a bonus artworked 7" featuring an exclusive track. Art direction on the 7" is from Jeremy Deller.
Label
---
In Our Heads
---
Recorded in London and produced by the band with Mark Ralph, In Our Heads is the band's follow up to 2010's intoxicating One Life Stand and their first LP for Domino. In Our Heads will be available on CD, LP and digitally. There will also be a special edition vinyl of the album available on gatefold double LP with a bonus artworked 7" featuring an exclusive track. A free download of Flutes is available immediately when pre-ordering In Our Heads through Domino.
The collective talents of Hot Chip's Joe Goddard, Alexis Taylor, Felix Martin, Al Doyle and Owen Clarke have provided a consistently stellar output which continues to evolve with a deceptive effortlessness. While their lexicon of influences includes a diverse mix of soul, R&B, gospel, Detroit House, disco and funk, Hot Chip have created a uniquely identifiable sound. Since 2004, they've released a string of ambitious and creatively bold albums of soulful, lyrical and melodic electronic pop. Their impressive debut Coming On Strong was followed in 2006 by the brilliantly buoyant The Warning, which earned the band a prestigious Mercury Music Prize nomination. 2008's Made In The Dark spawned an international mega hit in "Ready For The Floor", which picked up a Grammy nomination for 'Best Dance Recording'. With In Our Heads, an unadulterated delight of an album bursting with dynamic floor fillers, euphoric earworms and verbose synth-fuelled love songs, Hot Chip cement their position as the world's most talented electro-romantics.
Tracklist
1. Motion Sickness
2. How Do You Do
3. Don't Deny Your Heart
4. Look At Where We Are
5. These Chains
6. Night And Day
7. Flutes
8. Now There Is Nothing
9. Ends Of The Earth
10. Let Me Be Him
11. Always Been Your