---
---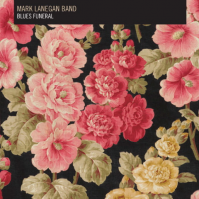 Formats
---

---
Label
---
Blues Funeral
---
If Death were a man of blood and bone, romantic notions would lead a wager that he'd have a voice akin to Mark Lanegan's – hypnotically magnetic, a whiskey-in-the-ashtray grit with supernatural depth.
Lanegan's first solo output since 2004's excellent Bubblegum. While never quite stepping out from under the shroud of lonely-campfire isolation, the album runs a stylistic gamut, leaping between ominous groove-rock and 80s synth-melancholia with casual confidence and varying influence. The night-drive anthem of Grey Goes Black leans on an eerie early Jonny Greenwood riff, enjoying an emotive solo before a drum machine supplants the kit with an understated yet urgent breakbeat.
A vital component of the man's magic is in his unique vocal and timing arrangements, accentuation anomalies within his gravel-worn leather baritone.
Tracklist
1- The Gravedigger's Song
2 - Bleeding Muddy Water
3 - Gray Goes Black
4 - St. Louis Elegy
5 - Riot in My House
6 - Ode to Sad Disco
7 - Phantasmagoria Blues
8 - Quiver Syndrome
9 - Harborview Hospital
10 - Leviathan
11 - Deep Black Vanishing Train
12 - Tiny Grain of Truth