---
---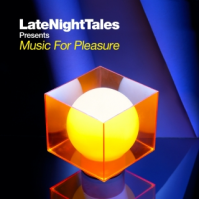 Formats
---

---

X

2 LP & CD
Label
---
Groove Armada Presents Music For Pleasure
---
Taking a side step out of the usual Late Night Tales timeline, Tom Findlay from Groove Armada presents a special Music For Pleasure selection of some of the finest soulful pop music of the 70s and early 80s. Press play and suddenly life somehow feels so much better. The sun is shining because it always does round here. In your mind, you are roller-skating down Venice Beach, the breeze gently kissing your blonde hair. You live in an apartment up in Laurel Canyon. Life has never been better.
Although California plays an obvious role, it's not just the Pacific Coast representing here. We've got some Scots, a Yorkshireman, some Brummies; but as the saying goes "When the legend becomes fact, print the legend." This legend has been compiled with some love by Tom Findlay from Groove Armada. As part of Groove Armada, he's had Grammy-nominated singles ('Superstylin'), and started the Lovebox festival in London. With Tim Hutton he's one half of SugarDaddy who are responsible for the rather tasty cover of Ace's 'HowLong' here. Also present and correct are Steve Miller Band with 'Fly Like An Eagle', 'Work To Do' by Average White Band, Michael McDonald weighs in with 'I Keep Forgettin'', while there's room for a special Balearic edit of 10cc's 'I'm Not In Love'.
The summer's coming and Music For Pleasure has merely accelerated its arrival. Let your hair down. Slip on your blue jeans and cowboy shirt. Make yourself at home by the pool. Shake up a cocktail and stick this on the sound system. Lay back and think of Laurel Canyon.
Tracklist
01 Ambrosia - You're The Only Woman
02 Robert Palmer – Every Kinda People
03 Michael McDonald - I Keep Forgettin' (Every Time You're Near)
04 Toto - Georgy Porgy
05 Bobby Caldwell – What You Won't Do For Love
06 Player – Baby Come Back
07 The Steve Miller Band – Fly Like An Eagle
08 Ned Doheny - Get It Up For Love
09 Average White Band - Work To Do
10 Boz Scaggs – Lowdown
11 Sugardaddy – How Long (Exclusive Ace Cover Version)
12 Electric Light Orchestra – Showdown
13 Gerry Rafferty - Get It Right Next Time
14 The Doobie Brothers - It Keeps You Runnin'
15 Hall & Oates - I'm Just A Kid (Don't Make Me Feel Like A Man)
16 Bread – The Guitar Man
17 Todd Rundgren - Be Nice To Me
18 10cc – I'm Not In Love