---
---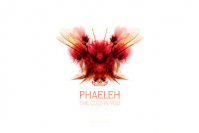 Formats
---

---
Label
---
Cold in You
---
In the last 12 months Bristolian multi-instrumentalist and beat conductor Phaeleh has made a massive impact in the electronic music scene. The unique splice of electronic pop sensibilities and an eyes down UKBass mentality displayed on his debut album 'Fallen light' won him fans ranging from Dubstep overlord Skream to plaudits in the Guardian, sound tracking C4's Skins and much specialist support across Radio 1.
On this his second outing Phaeleh refines his game, bringing a clinically focussed sound that still manages to toy with the outer limits of electronica. The title track 'The Cold In you' sees the return of his vocal muse the haunting Soundmouse who leads the listener through an icey soundscape populated glitches, sparse rimshots and soundclash bassweight. This is a downbeat classic in the honoured tradition of Bristol fore fathers Massive Attack and Portishead. In typical Phaeleh sound the rug is immediately pulled by 'Caustic Storm' a 5-minute dose of pure Dubstep dramatics feature clashing snares snarling low end and a global panoramic perspective. 'Perilous' sees the welcome return of long time collaborator and acclaimed reggae vocalist, I-mitri.
Technoir synth antics and a healthy skank combine to concoct a future rootical anthem. 'In The Twilight' is classic Phaeleh fusing his adept guitar licks with emotive strings and deftly clipped soul snippets creating the sountrack for summer sundown. 'Think About It' cranks up the tempo with breezy harmonics, lost soul and a taught future garage shimmy. 'From a Distance' is a slice of melancholic downbeat with his trademarked engineered drums punctuating the dreamy atmospherics and tear-jerking piano work. Phaeleh rounds up proceeding with the epic 'Should Be True' pushing his sound palate further incorporating 80's soundtrack guitar licks into his solaric arsenal of melody.