---
---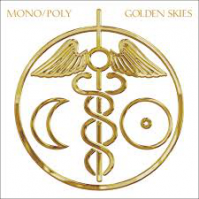 Formats
---

---
Label
---
Golden Skies
---
It speaks volumes for how long we've been waiting for the debut Brainfeeder album from Mono/Poly that when Flying Lotus first got in touch with him about doing something for the label, it was via Myspace. The wait, though, has been worth it. Specializing in a kind of beat-driven cosmic soundscape which he describes as "electronic-classical-alchemy music," Mono/Poly aka Charles Dickerson has drawn on the lessons he's learned from collaborating on last year's Thundercat album as well as the Flash Bang Grenada hip hop project with Busdriver and Nocando, and made a beautifully realized, endlessly expansive record.
From the first orchestral trills of "Winds of Change" you know you're in for something special. As the track builds the listener notices not only the content but also the production chops – this is a record which sounds exactly as big, glossy and up front as its creator wants it to. Rebekah Raff adds scintillating harp work to "Transit to the Gold Planet," but it's the way Dickerson integrates it and builds on it which is really special. "Ra Rise" sounds like sunbathing in space, Niki Randa's abstracted topline vocal warming you right through. Title track, "Golden Skies" uses a looping piano riff reminiscent of Bach, Thelonious Monk and Wu Tang on E, all at once, without sounding like any of them. Add sternum- thrumming bass to that and you know exactly what's what. "Alpha & Omega" does something clever with slowed down d&b licks and tweaked vocal snips. "Empyrean" features Mendee Ichikawa (of the band Free Moral Agents), an ethereal, ghostly presence. "Night Garden" sounds like a drive through the dark streets of an alternate LA. "Euphoria" uses a simple, military-style snare and then twines keyboard lines over it until it's lifted into the sky. Thundercat joins in on last track, "Gamma," and adds some perfectly-judged low-end riffing to anchor Dickerson's keyboard swirls.
Mono/Poly has been a name to watch since his debut, The George Machine, back in 2009. His 2011 EP release for Brainfeeder, Manifestations, was supported by artists as diverse as Radiohead and Erykah Badu and his work on Thundercat's Apocalypse established once and for all the quality of his productions. With Golden Skies he has laid down a marker to any other "beat maker" out there. Because with a genuine producer with this much talent, everyone else needs to aim a little bit higher – up towards the golden skies.
Tracklist
1. Winds of Change
2. Transit to the Golden Planet
3. Ra Rise
4. Golden Gate
5. Golden Skies
6. Light Age
7. Alpha & Omega
8. Urania
9. Empyrean (Feat. Mendee Ichikawa)
10. Dreamscape
11. Night Garden
12. Euphoria
13. Gamma