---
---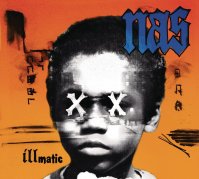 Format
---

88843046901

Long Player

£18.00
Label
---
Illmatic XX
---
Marking 20 years since the genre-defining release of Illmatic which sparked decades of inspiration for other young rappers and performers, comes this anniversary 2 disc edition.
Nas' lyrical style and storytelling finesse coupled with some of the best beat makers and producers in the game, including Large Professor, DJ Premier and Q-Tip have ensured this release has maintained its influential status 20 years later.
Illmatic XX comprises a fully remastered version of the original hip hop classic album with an additional disc of remixes, the previously unreleased track "I'm A Villain" and a previously unheard freestyle from 1993.
Tracklist
Disc 1: Remastered original album

1. The Genesis
2. N.Y. State Of Mind
3. Life's A Bitch
4. The World Is Yours
5. Halftime
6. Memory Lane (Sittin' In Da Park)
7. One Love
8. One Time 4 Your Mind
9. Represent
10. It Ain't Hard To Tell

Disc 2: Demos, Remixes & Live Radio

1. I'm A Villain (previously unreleased)
2. The Stretch Armstrong and Bobbito Show on WKCR October 28, 1993 (previously unreleased freestyle)
3. Halftime (Butcher Remix)
4. It Ain't Hard To Tell (Remix)(promo single)
5. One Love (LG Main Mix)
6. Life's A Bitch (Arsenal Mix)(promo single)
7. One Love (One L Main Mix)
8. The World Is Yours (Tip Mix)
9. It Ain't Hard To Tell (The Stink Mix)(UK single)
10. It Ain't Hard To Tell (The Laidback Remix)(UK single)