---
---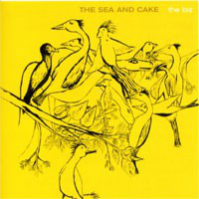 Format
---

THRILL026LP

LP

£15.00

Expected 5th November 2012
Label
---
The Biz
---
2012 marks 20 years of Thrill Jockey. The label continue celebrating by bringing back to vinyl The Sea And Cake's third album 'The Biz'.
'The Biz' was The Sea And Cake's third album released in October 1995. Out of print on vinyl for nearly a decade, Thrill Jockey are happy to finally offer it again.
This 2012 edition was remastered to vinyl by Roger Seibel at SAE Mastering and pressed on high quality virgin vinyl. Included is an artworked inner sleeve and, for the first time, a download coupon.
Following the band's self-titled debut released in Sept 1994, and 'Nassau', released in March 1995, 'The Biz' was the band's third record in just over one calendar year.
The album was recorded at John McEntire's own Soma Studios. The instruments were mostly recorded live in only three days. The vocals were recorded by Prekop alone in five days.
With 'Nassau' the band experimented heavily with signal processing and on 'The Biz' they continued that experimentation using less common forms of processing more sparingly. They used a Roland Space Echo, EML-101, and ARP 2600, as both instruments as well as manipulators.
Recording withstanding, 'The Biz' continues to showcase the band's ability to mesh together their unusual blend of pop, soul and jazz into one seamless output.
Tracklist
1. The Biz
2. Leeora
3. The Kiss
4. Station In The
5. Valley
6. Darkest Night
7. Sending
8. Escort
9. An Assassin
10. The Transaction
11. For Minor Sky