---
---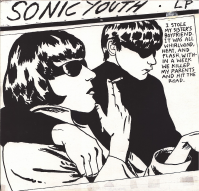 Formats
---

---

4734941

Long Player

£18.00

X

Double Vinyl
Label
---
Goo
---
I know nothing of the circumstances surrounding Sonic Youth's signing with Geffen, so let's just say it happened at some point between late '89 and early '90 [let me be slightly less lazy five years later---see the deluxe edition of 'goo' for all the juicy details, folks]. In November '89 they recorded 8-track demos for what would become "Goo" (at this point the working title was "Blowjob?" based on Raymond Pettibon's art and their desire to test Geffen's sense of humor) at Waterworks in NYC, with Jim Waters engineering and Don Fleming & J. Mascis assisting with the production. All of the "Goo" songs were demoed except "Scooter & Jinx" (naturally). Several songs were clearly still in an embryonic state, "Bookstore" would become "Mote" but Lee's preliminary vocal take is radically different than the finished version. "Mildred Pierce" (aka "Blow Job?") stretches, perhaps unintentionally, for over 8 minutes (and in fact, Thurston's chilling screams from this demo were transferred to the re-recorded version for the album). One track, the instrumental "Lee #2" would not appear on the finished album, but was played live several times on the late 1990 Goo tour (w/ vocals by Lee, bass by Thurston, and guitar by Kim). Bootleggers eventually got ahold of the entire demo and it was circulating in no time, so SY countered with their own version straight from the master tapes, released via Sonic Death.
The album itself was recorded in early 1990, probably after the brief March mini-tour where the songs still sounded fairly loose (though that could just be credited to their first live performances). They recorded at Sorcerer Sound and Greene St. in NYC w/ Nick Sansano and Ron Saint Germain, seriously piling on the overdubs for the first time (a practice they'd later abandon, or at least trim down)... the minute-long "Scooter & Jinx" features anywhere from 4 to 24 tracks of Thurston making excruciating amp feedback mixed together for your listening enjoyment. They had several guest performers, including Chuck D. (after Kim's initial desire to get LL Cool J fell through) on "Kool Thing", and assistant producers J. Mascis and Don Fleming on background vocals. The album was released in June 1990, along with the first single & video, "Kool Thing". They toured North America in August, bringing future DGC superstars Nirvana along for the ride on the latter half of the tour (Nirvana had already recorded their post-Bleach/pre-Nevermind demos w/ future Sonic Youth producer Butch Vig in April 1990). All "Goo" songs were performed (except "Scooter"), plus one or two songs from each of the previous releases, and the then-unreleased instrumental "The Bedroom". They toured Europe next, expanding the set list a bit, and returned to North America for yet another tour, adding the rarely performed "Disappearer" (perhaps because it had been released as the second single around then) and the no-longer-instrumental "Lee #2" to some sets. Mudhoney supported on the latter half of the tour, and the particularly explosive November 3rd show in Irvine, CA provided several live tracks for the forthcoming "Dirty Boots" EP in 1991.
The band took a brief break, then took off in late January 1991 for a 3-month tour as the 2nd opener on the Neil Young & Crazy Horse "Smell The Horse" tour (which was later documented on Neil's incredible "Weld" CD/video, and of course the 35-minute sound sculpture "Arc", inspired by Thurston). Their sets were typically 7-9 songs in length, opening with "Tom Violence" and closing with "Expressway To Yr Skull", possibly at Neil's request (he's often called it one of the greatest guitar songs ever). To say that some crowds were less than appreciative of SY would be a gross understatement (look no further than the audience shots in the aforementioned "Weld" video for a simple explanation). To support this tour, the mostly live "Dirty Boots" EP was released (also released in 1991 was a collection of music videos for the entire "Goo" album). Following this, the band did a date in Japan, then laid low for a few months, before heading out on yet another tour w/ Nirvana, this time in Europe, and this time with cameras rolling: Dave Markey shot the excellent tourfilm "1991: The Year Punk Broke" on this tour. By now SY had begun writing new material, performing "Chapel Hill" and "Orange Rolls, Angel's Spit" at most shows. Only 5 songs from Goo were being regularly played at this point. They did 2 more shows in 1991: one, a benefit for WFMU radio, where they debuted "Sugar Kane" and "Purr"; and two, the infamous Bridge Benefit appearance, Neil Young's all-acoustic day-long show which was a virtual disaster -- SY managed to make it thru about 2 songs, aborted another, and finished up with a loose cover of "Personality Crisis" before being booed offstage. A triumphant set!
Tracklist
1. Dirty Boots
2. Tunic (Song for Karen)
3. Mary-Christ
4. Kool Thing
5. Mote
6. My Friend Goo
7. Disappear
8. Mildred Pierce
9. Cinderella's Big Score
10. Scooter + Jinx
11. Titanium Exposé