---
---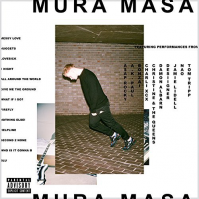 Formats
---

5762314

CD

£10.00

Expected 14th July 2017

X

Standard jewel case and booklet.

---

5758925

Long Player

£23.00

Expected 14th July 2017

X

Black heavy weight vinyl contained in a full colour inner sleeve and album download card.
Label
---
Mura Masa
---
Mura Masa releases his much-anticipated, self-titled debut album on his own imprint of Anchor Point (via Polydor / Interscope Records). Mura Masa features an extraordinarily diverse cast-list: ranging from Damon Albarn, Christine and The Queens and Charli XCX to A$AP Rocky, Desiigner, Jamie Lidell, A.K Paul, and affiliates of Alex's own Anchor Point family (like Nao, Bonzai and Tom Tripp). In and amongst all that, musically you're as likely to find Prince-style wired funk sitting next to trap as you are tropical-inflected house and acoustic balladry. It's singularly Mura Masa's vision of what pop music (and modern British culture) should look like in 2017. Even the artwork rejects the idea of running to the page, or living in a box.
Tracklist
1. Messy Love
2. Nuggets [feat. Bonzai] [Explicit]
3. Love$ick [feat. A$AP Rocky] [Explicit]
4. 1 Night [feat. Charli XCX]
5. All Around The World [feat. Desiigner] [Explicit]
6. give me The ground [Explicit]
7. What If I Go?
8. Firefly [feat. NAO]
9. Nothing Else! [Feat. Jamie Lidell] [Explicit]
10. helpline [feat. Tom Tripp]
11. Second 2 None [feat. Christine And The Queens]
12. Who Is It Gonna B [feat. A. K. Paul]
13. Blu [feat. Damon Albarn]