---
---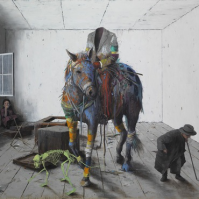 Formats
---

SFTDCD001

CD

£10.00

Expected 23rd June 2017

X

Single CD packaged in a Gatefold wallet with a 36 page booklet.

---

SFTDCD001X

CD

£13.00

Expected 23rd June 2017

X

2CD and 36 page booklet housed in embossed, oversized softpack. The second disc contains exclusive instrumental versions of each song.

---

SFTDLP001

Long Player

£35.00

Expected 23rd June 2017

X

An exceptional packaged Double 180 Gram black vinyl and 36 page booklet housed in debossed gatefold sleeve. Product also includes a download card.
Label
---
The Road Part 1
---
After a rollercoaster twenty-five year career as an artist, curator and tastemaker, James Lavelle returns with Unkle's fifth studio album: The Road. In the twenty years since Unkle's debut, Lavelle has been prolific. He created three studio albums with Unkle (Never Never Land, War Stories and Where Did The Night Fall), a host of critically acclaimed film scores, and curated a series of art exhibitions through Daydreaming with... most notably, the hugely successful DayDreaming with Stanley Kubrick exhibition at Somerset house. After a productive trip to the States, Lavelle returned to London to add the finishing touches to what was shaping up to be another classic Unkle record. Lavelle then managed to conclude a twenty year conversation with Primal Scream's Andrew Innes, as the pair finally got together in the studio. Innes plays lead guitar to the album's title track The Road. Another first for Lavelle was a collaboration with Planet Funk's Gigi Canu and Marko Baroni, who along with Duke Spirit starlet Liela Moss, contributed to Sunrise (Always comes around), Unkle's reinterpretation of the summer anthem.
Tracklist
1. Iter 1 - Have You Looked at Yourself?
2. Farewell
3. Looking for the Rain
4. Cowboys or Indians
5. Iter 2 - How Do You Feel?
6. No Where to Run/Bandits
7. Iter 3 - Keep on Runnin'
8. Stole Enough
9. Arms Length
10. Iter 4 - We Are Stardust
11. Sonata
12. The Road
13. Iter 5 - Friend or Foe
14. Sunrise (Always Comes Around)
15. Sick Lullaby