---
---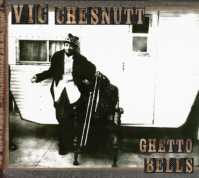 Format
---

NW1561

Long Player

£18.00

Expected 14th July 2017

X

High Quality 180 Gram double vinyl with a digital download included.
Label
---
Ghetto Bells
---
Vic's 2005 release of Ghetto Bells on double 180 Gram Vinyl. Ghetto Bells matches the poetic power of his words with some of the most elegantly simpatico backing he's ever been blessed with, including jazz icon Bill Frisell on guitars, legendary writer, arranger and multi-instrumentalist Van Dyke Parks on piano, accordion and organ, Don Heffington of Lone Justice and the Jayhawks on drums and percussion; classically trained session-man Dominic Genova on double bass, sweetheart / sidekick / sounding board Tina Chesnutt on electric bass, and newcomer-singer-songwriter Liz Durrett on exquisite backing vocals.
Tracklist
1. Virginia
2. Little Ceasar
3. What Do You Mean?
4. Got to Me
5. Ignorant People
6. Forthright
7. To Be With You
8. Vesuvius
9. Rambunctious Cloud
10. The Garden
11. Gnats