---
---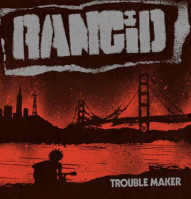 Formats
---

8714092746525

CD

£10.00

Expected 9th June 2017

---

8714092746532

Long Player

£20.00

Expected 9th June 2017

X

Limited to 750 Copies on Baby Blue Vinyl with Bonus 7".
PRE-ORDER

---

8714092746518

Long Player

£18.00

Expected 9th June 2017

X

Standard Black Vinyl.
Label
---
Trouble Maker
---
Rancid as a band have always been imbued with a sense of place: the blue collar neighbourhoods where they grew up in Berkley, California, their place as individuals within their band, their band as part of a movement and their evolving sense of place in relation to the world at large. This year Tim Armstrong (vocals, guitar), Matt Freeman (bass, vocals), Lars Frederiksen (vocals, guitar), and Branden Steineckert (drums) return with their ninth studio album…Trouble Maker. Born in the midst of the post-Reagan economic downturn in the San Francisco Bay Area, the East Bay region specifically, Rancid came to light as Armstrong and Freeman were moving forward after the first band they founded, Operation Ivy, reached a friendly demise. As Rancid, the band took up the torch of social commentary and the examination of the local scene and instantly inflamed the newly revived punk community, setting the stage for what was to come. After having seen the American dream dwindle and fade within their country, community and homes, Rancid put their description of its aftermath into their songs. Each album served as a layer cementing Rancid's natural place in punk. Their lyrical themes established their identity in the punk rock world while musically they incorporated horns, rockabilly bass lines, reggae rhythms, rasp, and distortion. Balancing their personal tales of love, loss, and heartbreak with attitude, Rancid gave their listeners a community. Over the past 2 decades, Rancid has shown awareness of their changing environment and have established their place in it, all while never losing sight of themselves as individuals or as a band.
Tracklist
1Track Fast
2Ghost of a Chance
3Telegraph Avenue
4An Intimate Close Up Of A Street Punk Trouble Maker
5Where I'm Going
6Buddy
7Farewell Lola Blue
8All American Neighborhood
9Bovver Rock and Roll
10Make It Out Alive
11Molly Make Up Your Mind
12I Got Them Blues Again
13Beauty of the Pool Hall
14Say Goodbye to Our Heroes
15I Kept a Promise
16Cold Cold Blood
17This is Not the End