---
---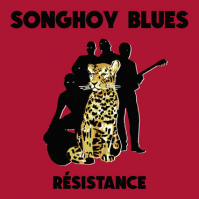 Formats
---

TRANS298CD

CD

£10.00

Expected 16th June 2017

X

Jewel Case with Fold Out Poster

---

TRANS298X

Long Player

£22.00

Expected 16th June 2017

X

Limited Yellow Vinyl.

---

TRANS298XA

Long Player

£18.00

Expected 16th June 2017

X

Black Vinyl.
Label
---
Resistance
---
Songhoy Blues release their new album, Resistance on Transgressive Records. It's a bold, inspiring, outward-looking record that perfectly reflects the position the band have found themselves in following the massive success of their breakthrough debut, Music In Exile, released in 2015. The album was recorded in the autumn of 2016 at The Pool studio in London with producer Neil Comber (MIA, Django Django, Crystal Fighters, Declan McKenna) and in keeping with their spirit of collaboration which saw them previously work with Nick Zinner, Julian Casablancas and Damon Albarn, Resistance features additional synths by Lxury and vocal contributions from the likes of Iggy Pop, Elf Kid and Stealing Sheep. Beyond this, the album features beautiful string parts (Hometown) and in one particularly surprising, moving instance (One Colour), a children's choir.
Tracklist
1. Voter
2. Bamako
3. Sahara
4. Yersi Yadda
5. Hometown
6. Badji
7. Dabari
8. Ici Bas
9. Ir Ma Sobay
10. Mali Nord
11. Alhakou
12. One Colour