---
---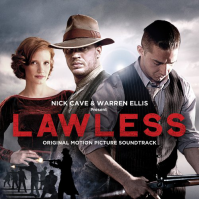 Formats
---

---

MOVLP600

Long Player

£25.00

X

Limited Edition Vinyl Pressing
Label
---
Lawless (OST)
---
Original soundtrack to the 2012 motion picture.
The Lawless soundtrack includes original songs written by Nick Cave for the movie and performances by Country legends Willie Nelson and Emmylou Harris along with Grammy Award winner Ralph Stanley (O Brother, Where Art Thou) and Mark Lanegan from Screaming Trees and Queens of the Stone Age.
Best known for his work as a frontman of the critically acclaimed rock band, Nick Cave and the Bad Seeds, Nick Cave, along with fellow Bad Seed Warren Ellis, composed the soundtracks for The Proposition, The Assassination of Jesse James by the Coward Robert Ford and The Road.
Tracklist
1. Fire and Brimstone
2. Burnin' Hell
3. Sure 'Nuff 'N Yes I Do
4. Fire in the Blood
5. White Light / White Heat
6. Cosmonaut
7. Fire in the Blood / Snake Song
8. So You'll Aim Towards the Sky
9. Fire in the Blood
10. Fire and Brimstone
11. Sure 'Nuff 'N Yes I Do
12. White Light / White Heat
13. End Crawl
14. Midnight Run
15. Midnight Run (Buddy Cannon Mix)