---
---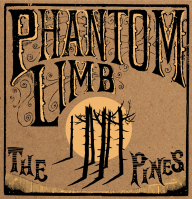 Format
The Pines -
---
Four years on from their excellent debut album, Phantom Limb have refined
their sound further to more clearly occupy the kind of country-soul territory
once inhabited by the likes of Dobie Gray and The Staple Singers.
Singer Yolanda Quartey brings huge reserves of subtle but persuasive emotion to bear with her restrained blues vocals, while the band's arrangements of banjo, dobro, guitar and deep, burring organ have the whiff of Muscle Shoals about them. Tracks like "The Pines", "Give Me a Reason" and the backporch singalong "Missy" recall the too-rare hook-up of The Band with the Staples, while elsewhere Quartey's multitracked harmonies and the laidback country-rock settings of "It's the Only Way" and "Laugh Like You're Mad" are wreathed in the herbal aroma of Laurel Canyon, circa 1970.
Tracklist
1. The Pines
2. Tumbling Down
3. Give Me A Reason
4. I'll Have Mercy
5. The Only Way
6. Laugh Like You're Mad
7. Gravy Train
8. Badge Of Descension
9. Hollow Eyes
10. Missy
11. Harder Than Stone
12. High And Dry
13. Angel Of Death (Exclusive CD Bonus Track)

Exclusive Bonus CD Details:

Phantom Limb - Live At The Old Vic

1 - Tumbling Down
2 - Proud Mary
3 - Don't Say A Word
4 - Draw The Line

total playing time - 21:31