---
---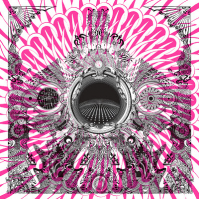 Format
---

LAUNCH037LP

2 x Long Player

£18.00
Label
---
Gnod Drop Out With White Hills ll
---
'Gnod Drop Out with White Hills II' is a collaboration between two of the most colossal cosmic manglers on the planet, that of astral rejecters Gnod (Manchester) and spacerock juggernauts White Hills (New York). Gnod have been stirring their galactic soup of flashbacked rituals with unpredictable incendiary results, both on record and as a live experience for many years now and this is considered on of their classic albums. Having them join forces with White Hills for this record is akin to having the aural equivalent of those 3D magic eye stereograms, looked at in one way, they just don't make sense, but seen through the repetition of the music, the result is out of this world.
White Hills continue their fiery brand of heavy spacerock has seen them burning up live appearances over the years as they continue on the path towards uncharted territories.To celebrate this thundering union, Rocket Recordings have embarked upon this re-release of pulsating mantras, awash with all the hypno propulsion both bands motor skills can pilot. It's brimming with surrendered like patterns, like both bands driving through 'Dingerland' with 'LA Woman' blasting from the rushing air.We have 16 minute elegant 'Bel Air' suites, it's ebbed & flowing mesmerizing grooves burst with swooping grandiose synths, like gentle waves, hanging in time.
Interjections of oscillating guitars and keyboards, designed to propel the captured listener into a trance-inducing sunroof of kosmische blur, rupturing out through the expansive blue.The tracks are embedded with an exciting haze of echoing psychedelia, electronic & experimental Krautrock trippo-nova. After which, all four corners of your mind's eye have been consecrated 'In Gnod We Trust's' world of undulating symphonies.
Tracklist
Phase I
1. Bits
2. Run-a Round
3. Streams

Phase II
4. The Secret Society Of Ants
5. Spaced Man

Phase III
6. Well Hang
7. Drop Out

Phase IV
8. Per Sempre
9. Elka (CD Bonus Track Only)