---
---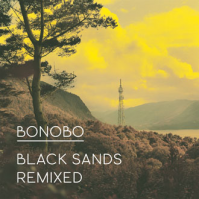 Format
Label
---
Black Sands Remixed
---
An awesome remix of one of 2010's top records.
The thing about doing a remix album on Ninja Tune is that you pretty much have the pick of the electronic music scene's most exciting contemporary talent to choose from, and Bonobo's Black Sands remix collection is a perfect example of this. From Brainfeeder signing Lapalux's Fly-Lo-esque opening cut, to TRG's spectral garage re-rub of Kiara, the album starts out strong and keeps building.
Rising hip-hop star Dels adds a Ghostpoet-esque verse to the broken beat re-imagining of Eyesdown, while a new track from Bonobo themselves (Ghost Ship) brings us back to more familiar organic territory, with swooping strings and glockenspiel, and jazz-inflected beats and keys.
Particular highlights are the simultaneously mental and blissed-out high-speed refix of Eyesdown by LuckyMe / Merck / Planet Mu affiliate Machinedrum, and the fuzzed-out glitches of Blue Daisy's take on Stay The Same. Finishing with Duke Dumont's orchestral take on the title track, this is a remix album that, through sheer innovation and breadth of scope, almost eclipses the brilliance of the original.
Tracklist
1. Prelude (Lapalux's Finger on the Tape Remix) 4:19
2. The Keeper (Banks Remix) 6:11
3. Kiara (Cosmin TRG Remix) 5:06
4. Eyesdown (Floating Points Remix) 6:04
5. Eyesdown (ARP 101 Remix) 3:53
6. Eyesdown feat. Andreya Triana & Dels 5:29
7. All In Forms (Falty DL Remix) 7:35
8. Ghost Ship 4:02
9. Stay The Same (Mark Pritchard Remix) 5:10
10. Eyesdown (Machine Drum Remix) 3:36
11. All In Forms (Mike Slott Remix) 5:26
12. Stay The Same (Blue Daisy 'Not Quite the Same' Remix) 5:21
13. Brace Brace 7:04
14. Black Sands (Duke Dumont's 'Grains Of Sand' Reconstruction Edit) 7:24