---
---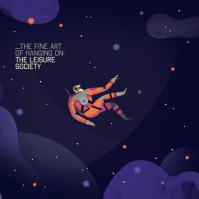 Format
Label
---
Fine Art Of Hanging On
---
The Leisure Society release their fourth album The Fine Art of
Hanging On, via Full Time Hobby. The intricate production, playing,
arrangements, songwriting and broad-ranging instrumentation all
indicate an outfit at their most purposeful and assured best.
Alongside an audible new creative peak tied together by a distinct
theme, The Leisure Society's acclaimed prior trademarks are still
present - namely Nick Hemming's intensely personal and honest lyrics
which adorn the band's warm, timeless, seamless blend of folk,
grandiose pop and indie.
"'The Fine Art of Hanging On' is a recurrent, linking theme, although
this wasn't an intentional concept album", explains Nick. "It's about
clinging to something - be that a relationship, a career, or life itself.
All the way through writing the album a friend of mine was battling
cancer. I reached out by sending him the rough demos of this album.
By giving him this access to the work in progress and by him giving
feedback, we formed a close bond. Sadly he lost his battle, but his
input and presence is there in the album."
With 'The Fine Art of Hanging On' the band have perhaps created
their most cohesive body of work yet, and they have embraced the
theme with original artwork once again provided by acclaimed young
illustrator Owen Davey, a long-term Leisure Society collaborator.
Tracklist
1. The Fine Art Of Hanging On
2. Nothing Like This
3. Tall Black Cabins
4. The Undefeated Ego
5. Outside In
6. I'm A Setting Sun
7. You Are What You Take
8. You'll Never Know When It Breaks
9. All Is Now
10. Wide Eyes At Villains
11. As The Shadows Form