---
---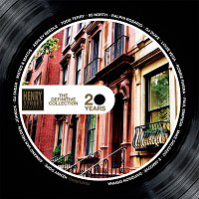 Format
---

X

5 x CD Box Set
Label
---
20 Years Of Henry Street Music - The Definitive Collection
---
HENRY STREET MUSIC –TWENTY YEARS OF FIERCE HOUSE MUSIC
Incredible as it seems, this year marks twenty years since the launch of Johnny D'Mairo's Henry Street Music label. To celebrate, BBE is marking the occasion with a sumptuous fivedisc CD retrospective, a fitting tribute to one of the most important of all house labels. This is one of the most extensive grand summations yet done of a dance label. Henry Street Music exemplified its era as much as Trax and Nu-Groove had theirs. Come the mid-'90s, the disco cut-up became ubiquitous, as thousands tried to emulate the success of Henry Street's first big killer, The Bucketheads' Tha Bomb –still a dancefloor staple two decades on.
Many of the movers and shakers of the day had their best moments on Henry Street, and they're all here: Johnnick, Armand Van Helden, DJ Duke, DJ Sneak, Dirty Harry, Davidson Ospina, Todd Terry, Mateo and Matos, Brutal Bill, Josh Wink, even the UK's own Ashley Beedle, and many more –a veritable roll-call of the premiere-league of dance at the time, an era when dance music still seemed incredibly fertile and the link with its own past was still vital.
Some of the American originals can struggle to get props among the countless mutations of house out there vying for attention in today's digitalized dance scene, but the real househeads always knew to check them, and will recognize this as quality product, through and through.
Henry Street (named after Brooklyn homeboy Johnny's neighbourhood) always had a 'New York' vibe, and even when drawing its producers from further afield, the label encapsulated the city's melting-pot of talent and raw, bristling energy... energy captured here, and exploding off these remastered tracks like it's 1999 all over again! Alongside the massive dancefloor anthems from the likes of Kenny Dope and Armand Van Helden are some real gems that got away, some exclusive mixes, and the thoughts of Johnny D, one of the prime-movers of the New York dance scene even before he came up with his own label, responsible for countless hits as promotions man and as dance A&R at Atlantic. Never one for the limelight, Johnny's own story is nonetheless inextricably bound up with the transition from disco through house to the ubiquity of dance music today.
So... dust off those dancing shoes, and get ready to feel the heat, it's one more time for the Henry Street Hustle!
Tracklist
5 CD Boxset:
Disc: 1
1. Whew - Kenny 'Dope' Presents The Bucketheads
2. It's Jazzy - Anthony Mannino presents Syncopation
3. Hey Baby - Armand Van Helden presents Old School Junkies
4. The Bomb! (These Sounds Fall Into My Mind) - Kenny 'Dope' Presents The Bucketheads
5. Play the World - Johnick
6. Show Me the Way - DJ Sneak presents The Polyester EP
7. Rainbow '95 - Mateo & Matos presents No Props EP
8. Walk 4 Me - Robbie Tronco presents Tronco Traxx
9. Ascension (The Ethereal Funk Mix) - Dirty Harry

Disc: 2
1. Sunrize - Ashley Beedle & Phil Asher present The Rising Sunz
2. The Funk Phenomena - Armand Van Helden presents Old School Junkies
3. I Thought Your Love - Todd Terry presents Fingertrips
4. I Wanna Know - Kenny 'Dope' Presents The Bucketheads
5. Who's Hoo - 95 North presents Da Hooligans
6. Byrdman's Revenge - Mike Delgado presents The Upstairs Lounge
7. Brinca - Ralphi Rosario presents The Brinca EP
8. Open Up Your Eyes - Johnick
9. Philly Jazz (Remix) - Brutal Bill Project #3
10. The Hustler - DJ Duke
11. Reachin' - DJ Sneak presents Polyester 2

Disc: 3
1. My Eyes - The Pound Eyes
2. I Believe - That Kid Chris
3. Feels Good - DJ Sneak presents Polyester 2
4. The Missile - Little Louie Vega presents The Chameleon
5. Funky Music - Norty Cotto presents 2nd Soul
6. Mecca Toast - Armand van Helden presents Old School Junkies 2
7. Party Hardy - 95 North presents Da Hooligans
8. Get On the Floor - Robbie Rivera presents Crazy Mother 2
9. Funky Fresh (Feat. The Buddha Monks) - DJ Stew
10. Magic (MK Mix) - Johnick
11. Night Beat Club (Main Mix) - Salvatore Vitrano
12. Brooklyn Beats (Pulse 2 Rhythm Mix) - Scotti Deep

Disc: 4
1. Shake It Again - Ray Roc presents Ray Roc Zone
2. Steal Your Love - BQE
3. Been There - Jeremias Santiago presents Eltingville Project
4. Paradise By the Furious Light - Furious George 3
5. Keep Dancin' - Paul Simpson presents 1st Take Sessions
6. Next to You - Josh Harris presents Philter Inc/Sandy B
7. Die Another Day - Tony Moran presents Bond-Age
8. Melted - Albert Cabrera
9. Feelin' It (Feat. Arnold Jarvis) - Groove Culture
10. Came Into My Life - Andy Ward & Paul 'The Wikkaman' Timothy presents The Mentalists

Disc: 5
1. D2-D2 (I Get Deep) (Timmy Regisford Shelter Mix) - DJ Duke/Roland Clark
2. Clap Along - Markus Schulz & C.L. Mc Spadden
3. Like That - Mike Rizzo presents Tiger Blood
4. The Funk Phenomena (Starkillers Remix) - Armand Van Helden
5. Night Birds - Davidson Ospina
6. Lake Shore Drive - E-Smoove
7. Feel the Thunder (Tommy Musto Mix) - Stron Jay
8. My Thing - DJ Sneak presents Polyester 3
9. Hustle Me This - Norty Cotto
10. Love to Ecstacy - DJ Kwest
11. Byrdman's Revenge (Trigger to Love Mix) - Mike Delgado presents The Upstairs Lounge
12. Party People (Original Demo) - Todd Terry & Marhsall Jefferson

3LP:
Disc: 1
1. The Bomb! (These Sounds Fall Into My Mind) - Kenny 'Dope' Presents The Bucketheads
2. The Funk Phenomena - Armand Van Helden presents Old School Junkies
3. Play the World - Johnick

Disc: 2
1. Show Me the Way - DJ Sneak presents The Polyester EP
2. Walk 4 Me - Robbie Tronco presents Tronco Traxx
3. Feelin' It (Rhythm Section Main Mix) - Groove Culture/Arnold Jarvis
4. Feel the Thunder (Tommy Musto Mix) - Stron Jay

Disc: 3
1. Byrdman's Revenge - Mike Delgado presents The Upstairs Lounge
2. Like That - Tiger Blood
3. Steal Your Love - BQE
4. D2-D2 (I Get Deep) (Timmy Regisford Shelter Mix) - DJ Duke/Roland Clark