---
---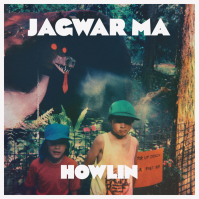 Formats
---

---

MA0003V

Long Player

£18.00

X

Double Vinyl
Label
---
Howlin'
---
Jagwar Ma, the duo of Jono Ma and Gabriel Winterfield, have enjoyed a whirlwind start to the year with single 'The Throw', a giddily disorienting seven minute epic of ecstatic acid-house and classic pop that met with overwhelming enthusiasm and a quickly growing international fan-base.
The band's first London show saw them bring a densely packed basement to sweaty elation, and they have quickly gone on to share bigger stages, having just supported Foals on their European tour and the xx in their native Australia.
Jagwar Ma will bring their kaleidoscopic and visceral set to headline shows in the UK in May followed by a summer of festivals across Europe, Australia & Japan.
Jagwar Ma are now pleased to announce that their debut album 'Howlin' will be released June 10TH on Marathon Artists, a first taster of which can be heard now with epic new single 'Man I Need'.
'Man I Need' basks in technicolor, garage-fuelled beat-psychedelia & anthemic, festival hooks before transcending into a euphoric groove-laden coda & an invitation to "exercise your chemistry".
A perfect alchemy of pop classicism, contemporary edge and emotional turmoil 'Man I Need' is a definitive invitation to the summer ahead, as well as a compulsively re-playable appetizer of what promises to be one of the years most entrancing debut albums.
Tracklist
1. What Love
2. Uncertainty
3. The Throw
4. That Loneliness
5. Come Save Me
6. Four
7. Let Her Go
8. Man I Need
9. Exercise
10. Did You Have To
11. Backwards Berlin