---
---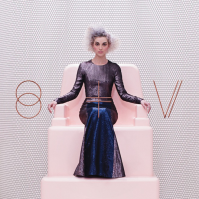 Formats
---

---

3767250

Long Player

£ —

Out of stock

Tri-fold one piece style jacket with foil stamp and emboss on the cover

---

BOO1990601

Long Player

£26.00

Label

---

St. Vincent

---

St Vincent aka Annie Clark has been moving at a breakneck speed for the past two years, barely stopping to catch her breath amidst a whirlwind of recording and touring. In 2011 she released her third album, 'Strange Mercy,' called "one of the year's best" by the New York Times and "something to behold" by Pitchfork. The record cemented her status as one of her generation's most fearsome and inventive guitarists, earned her the covers of SPIN, Paper, and Under the Radar, performances everywhere from the Metropolitan Museum of Art and Fallon to Letterman and Later, and a year-long sold-out tour of her biggest venues to date around the world. It was during this already monumentally busy time that she completed work with David Byrne on their collaborative album 'Love This Giant,' another critical smash, released during the summer of 2013.

On this, St Vincent's (self-titled) 4th album, Annie said "I wanted the groove to be paramount… I wanted to make a party record you could play at a funeral." St Vincent has delivered perhaps her best work to date, a sonic feast for the ears and the first 'must have' album of 2014.