---
---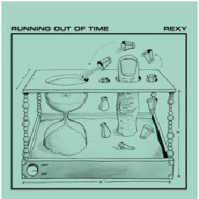 Formats
---

---

LUCKY090LP

Long Player

£18.00
Running Out Of Time
---
**Limited bonus disc including covers by Connan Mockasin, Ariel Pink and Samantha Urbani**
Lucky Number, in-conjunction with new label URU, spearheaded by solo artist Samantha Urbani, are thrilled to announce their reissue of British pop duo Rexy's only album, Running Out of Time on March 18th, 2016. Originally released in 1981 on Alien Records and long since out of print, the LP has become a coveted find for fans of leftfield pop, and through the rewards of its wry, forward-looking song-craft, has been championed by the likes of current artists such as Ariel Pink, Mount Kimbie, Joey Negro, Connan Mockasin and MGMT.
Meeting in the heady milieu of London's Blitz Kids scene, fashion student Rex Nayman and Eurythmics band member Vic Martin formed Rexy after bonding over a shared affinity for maverick pop music and the creatively flamboyant DIY clothing.
"The Blitz was a place to create your look, be who you wanted to be. I got bored of punk. While I've always loved soul, funk disco and jazz I'm also into latin, electro, show tunes, lounge and lots of kitsch stuff which was all played there." Rex used to frequent the The Blitz with some of the scenes most recognisable faces - a heady mixture of designers, promoters and musicians which included Stewart Mechem, Steve Strange, Princess Julia, Stephen Linard, Philip Sallon, Marilyn and Judith Frankland who designed the black wedding dresses for Bowie's Ashes to Ashes video. "It felt like anything was possible. I remember going there once in a tee-shirt made from a Brussel Sprouts Bag!" Rex recalls.
Writing and rehearsing together, it wasn't long before the pair's relationship also blossomed into romance. The first fruits of the pair's musical communion was the (Don't) Turn Me Away single. Released the same year as the group's formation in 1980, the cut's clicking drum machine, maddeningly catchy synth bassline, and spoken-word delivery recalls contemporaries like Young Marble Giants and Laurie Anderson, but offers more fun and more funk.
Whilst songs like the title track explore the same territory marked out by the band's first single, the album isn't just confined to an intimacy of subdued post-punk. Pieces like the almost instrumental, Nervoso, and Alien display the band's proficiency at creating propulsive, large-scale pop productions, the songs' swirls of glistening keyboards and fast-paced hi-hat hits coming across like '70s disco outfit Space produced by French pop guru Jean-Claude Vannier.
Before long and even with the little promotion provided by their small label ("it was a case of every expense spared" says Rex), Rexy's dynamic sound picked up momentum, taking them to Europe for TV appearances, notched up Radio 1 plays and even a Top 100 hit. However, as the band's reach began to grow, Nayman and Martin's romance started to falter, and before long, both their romantic and musical partnership came to an end. Over the subsequent years, as the pair fell out of contact, the band's idiosyncratic and peculiar output faded from earshot. Rexy managed one more EP (also titled Running Out of Time), and a single - In the Force (1981). Vic continued his musical career, playing keys for Boy George and Curiosity Killed the Cat, amongst others, whilst Rex continued to pursue a career in the fashion industry.
Over time ROOT became a favourite of the initiated few. Nervoso picking up currency as an underground disco classic through appearances on mixes like Joey Negro's Under the Influence and connected with contemporary pop outsiders Mount Kimbie, Ariel Pink, Connan Mockasin and Samantha Urbani (best known as front-person for New York City band Friends, as well as guest vocalist with Blood Orange), who felt so passionate about the record she started a record label URU to reissue it, in conjunction with Lucky Number. "I felt like the album had been fossilized in a perfect way, by its singularity, its mystery, and its illusiveness. This turned it into its own little esoteric, yet totally relatable and honest world." Urbani comments on ROOT.
On contacting the pair to propose the re-release of their album, Urbani and Lucky Number learned Rexy and Vic hadn't kept in touch nor seen each other for over 30 years. The proposal meant a reunion and sparked their interest in making music together again. Whether this will produce any new recordings or shows is anyone's guess, but until then, Running Out of Time is ready to be justly re-categorised by a new generation of listeners from being a pop oddity to being an absolute classic.
Tracklist
1. Perfect Day
2. Heartbreak Hotel
3. In The Force
4. Funky Butt
5. Nervoso
6. Johnny B. Goode
7. Send In The Clones
8. Running Out Of Time
9. Alien
10. Don't Turn Me Away