---
---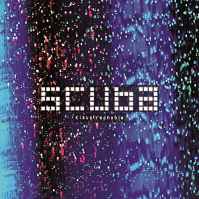 Formats
---

---

X

Double Vinyl
Label
---
Claustrophobia
---
Scuba's musical biography has been a story of constant change. Over the past eleven years, his music has zigzagged through bass, techno and house, at times dark and contemplative, at others bright and anthemic. A look at his discography bears out this creative restlessness: from the shadowy rhythms of A Mutual Antipathy and Triangulation, through the soaring melodies of Personality and the cardinal 'Adrenalin&' EP.
Claustrophobia is more than just the next phase in this development it's a culmination of everything that's come so far. As its name implies, the record is tense and inward-looking, but it's also rich and dynamic, nimbly moving through a panorama of moods and styles. Rhythms expand and contract from one song to the next, textural passages give way to shimmering strands of melody, found sounds and field recordings breathe life into ambient sketches. The album is modern and understated throughout, but also touched with something unrestrained: the exhilarating energy of classic rave.
The album comes at a pivotal moment for Scuba. In the past few years, he's gigged heavily, playing countless festivals and clubs around the world. The hugely influential Hotflush Recordings, the label Scuba runs, has expanded rapidly, with upwards of a dozen releases each year, including widely loved titles from the likes of Joy Orbison, Mount Kimbie and Paul Woolford. But Claustrophobia was written in a period of relative calm. Scuba began the album last summer as he prepared for his set at Labyrinth, the intimate techno festival in the mountains of Japan.
On that autumnal afternoon, given four hours on the world's best Funktion One, he traced the full arc of his current sound, from sonorous Rhythm & Sound-style dub to full-on warpath techno.
Claustrophobia, which he finished in the months following Labyrinth, has the same bold and comprehensive quality as that performance. We only occasionally get a 4/4 thud most tracks are built on lurching, angular rhythms, sometimes subtle ('Drift', 'All I Think About Is Death') sometimes monolithic ('Television','Needle Phobia') A few tracks, like 'Levitation'; and 'Transience'; are essentially beat-free, but are not mere interludes with vivid tones and striking depth of field, they have as much gravitas as their thumping companions ('PCP','Why You Feel So Low' or 'Black On Black'). Sleek, versatile and aurally lush, Claustrophobia is Scuba at his most immersive.
Tracklist
1. Levitation
2. Why You Feel So Low
3. Television
4. Drift
5. PCP
6. All I Think About Is Death
7. Needle Phobia
8. Family Entertainment
9. Black on Black
10. Transience.