---
---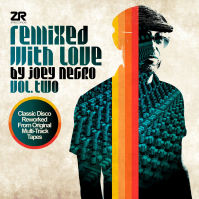 Formats
---

---

ZEDDLP38X

2 x Long Player

£ —

Out of stock

---

ZEDDLP38

2 x Long Player

£ —

Out of stock

Remixed With Love by Joey Negr

---

2015 was another great year for Z Records, a year that saw the release of the new artist album from Opolopo, the Joey Negro compiled Le Freak - a tribute to the sound of Chic, 90's House & Garage and the long awaited Supafunkanova Vol.2 alongside Sean P.

Z Records is starting 2016 in similarly strong fashion with the follow up to Remixed With Love. It's been over two years since the first instalment which topped many sales charts on its release so now the remixes that made up that album have been heard on house and disco dancefloors around the world ever since, it's time for Volume 2. So allow us to present 20 more reworkings of classic soul, funk, disco and boogie tracks from the likes of Grace Jones, Robert Palmer, Cheryl Lynn, The O'Jays, Gwen McCrae, George Benson and many more. Admittedly, we live in a world where remixes and edits of vintage dancefloor anthems aren't exactly hard to come by, in the same way that grains of sand aren't hard to come by on a beach. But where Soundcloud, Beatport et al heave under the weight of a gazillion bootleg offerings, many taking a dusty, scratched old 12-inch or a dodgy MP3 as their starting point, Remixed With Love is a little different. Not only is the man with one of the most legendary record collections in the game guaranteed to dig deeper than most, every track you hear has been (re)created using spanking new analogue transfers of the original multi-track tapes, with the full consent and co-operation of the copyright owners. Which means not only are you getting the best possible sound quality, the creators of the original tracks are getting paid too – as they damn well should be. These multi track tapes also uncovered elements that were not used in the original mixes so Joey has incorporated some of these never before heard parts such as the Grace Jones aerobic workout instruction.

Putting an album like this together is no easy feat, as Dave himself explains in the extensive liner notes that accompany this package. First, you have to get permission from the copyright owners to undertake the project at all – which can in itself entail hundreds of emails and phone calls. Then you have to track down the original tapes – when many may have been recorded over, lost or simply destroyed – and convince the label archivists to get them digitised. And that's before you even start on the remixing… which is when you find half the parts are missing, or you can't foreground that killer piano lick you wanted to because the original was recorded live in the studio and the piano track has the bassline bleeding all over it. The title of this album is extremely appropriate, because for Mr Lee this definitely has been a labour of love!

Tracklist

CD1 -
The O'Jays - I Love Music (Joey Negro Sweet Music Mix),
Patti LaBelle - Music Is My Way of Life (Joey Negro Funk In The Music Mix),
Pockets - Come Go With Me (Joey Negro Found A Place Mix),
Gwen McCrae - Keep The Fire Burning (Joey Negro Feed The Flame Mix),
The Trammps – Can We Come Together (Joey Negro Philly Dub Excursion),
George Benson - Love Ballad (Joey Negro Jazzy Reprise),
Gladys Knight & The Pips - Taste of Bitter Love (Joey Negro Disco Re-Blend),
Kleeer - Open Your Mind (Joey Negro Seeekret Mix),
Nicolette Larson - Lotta Love (Joey Negro Yacht Disco Mix),
Robert Palmer - Every Kinda People (Joey Negro Multicultural Multitrack Mix).

CD2 -
Christopher Cross - Ride Like The Wind (Joey Negro Extended Disco Mix),
Thelma Houston - I'm Here Again (Joey Negro Ready To Roll Mix), Grace Jones - Pull Up To The Bumper (Joey Negro Bumper To Bumper Mix),
Cheryl Lynn - You Saved My Day (Joey Negro Tell The World Mix), Willie Hutch – Brother's Gonna Work It Out (Joey Negro Return of The Mac Mix),
Norman Connors - Stella (Joey Negro Jazz Ride),
Jean Carn - Time Waits For No One (Joey Negro Extended Disco Mix), Loose Change – Straight From The Heart (Joey Negro Straight To The Groove Mix),
Wanda Walden – Don't You Want My Lovin' (Joey Negro Back To 81 Mix),
People's Choice - Here We Go Again (Joey Negro Philly Stomp Mix).