---
---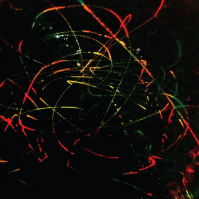 Formats
---

---

ZEN206

2 x Long Player

£10.00
Label
---
Modern Streets
---
Beat Spacek sees him once again take the reigns as a solo artist creating a record that is as much a love letter to the future as it is an ode to the past. Created largely using iPhone and iPad apps, the album once again finds Steve liberated through new technologies, excited by the prospects of "the new" whilst expressing notions of the past. It's a journey through the evolution of modern Britain from a futurist perspective.
Framed against a particular period in the 1980s when Steve was growing up as a young man in New Cross, South East London, Modern Streets is rooted in the duality of the past and the future. Flim-Flams was the club where he first experienced the clash of sounds and styles that characterised South London's racial, ethnic and cultural melting pot. A spot where Punks, Soul Heads, New Romantics, Dread Locks and Skinheads all converged, brought together through a love of music and new sounds.
From the paranoid, post-punk, sleng teng musings of 'I Wanna Know' to the nu wave pop-powered love song 'Inflight Wave', Modern Streets is a direct reflection of that experience, envisioned through the mind of a 21st Century Rudeboy. Ghanaian Highlife is re-imagined in digital form on 'Tonight'; 'Stand Firm' tips its hat to the dancehall with a futuristic rinse; whilst the sub-bass powered anthem 'Alone in Da Sun' draws on the finest elements of dubstep's sonic vocabulary and reworks them into a loose, new age club jam, brimming with soul and charisma.
Tracklist
1. I Wanna Know
2. Tonight
3. Inflight Wave
4. Modern Streets
5. I Want You
6. Gotta Get Some Music
7. If You Are My Chalice
8. There Is a Love
9. Stand Firm
10. Compact N Sleep
11. Back to School
12. You're the Only One
13. Alone in Da Sun