---
---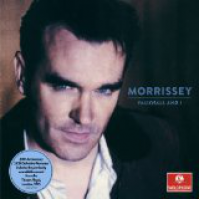 Formats
---

---

PCSDR148

Long Player

£20.00
Label
---
Vauxhall And I (Remastered)
---
The release cemented Morrissey's success in the US, giving him a top 20 album and his first hit single there with the song "The More You Ignore Me, the Closer I Get". This was Morrissey's second solo album to reach the top of the charts in Britain, the first being Viva Hate.
Vauxhall and I reflects the course Morrissey's life has taken. With its blend of guitar rock, largely acoustic ballads, and wry classic rock, Vauxhall and I stands in stark contrast to Morrissey's other work. It is distinguished by its ironic and introspective nature as well as its sombre and emotional mood.
Morrissey had recently suffered the loss of three people close to him: Mick Ronson, Tim Broad, and Nigel Thomas, which may have had the cumulative effect of giving Vauxhall and I a somewhat funereal feel. Indeed, just two years later Morrissey acknowledged that he felt at the time that this was going to be his last album, and that not only was it the best album he'd ever made but that he would never be able to top it in the future.
Tracklist
Disc: 1
1. Now My Heart Is Full
2. Spring-Heeled Jim
3. Billy Budd
4. Hold On To Your Friends
5. The More You Ignore Me, The Closer I Get
6. Why Don't You Find Out For Yourself
7. I Am Hated For Loving
8. Lifeguard Sleeping, Girl Drowning
9. Used To Be A Sweet Boy
10. The Lazy Sunbathers
11. Speedway

Disc: 2 (Live At The Theatre Royal Drury Lane)

1. Billy Budd
2. Have-A-Go Merchant
3. Spring-Heeled Jim
4. London
5. You're The One For Me Fatty
6. Boxers
7. Jack The Ripper
8. We'll Let You Know
9. Whatever Happens I Love You
10. Why Don't You Find Out For Yourself (
11. The More You Ignore Me, The Closer I Get
12. National Front Disco
13. Moon River
14. Now My Heart Is Full