---
---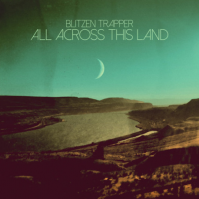 Formats
---

---

LJX098LP

Long Player

£15.00
Label
---
All Across This Land
---
Blitzen Trapper has built a solid reputation as a band unafraid to take chances. Incorporating a vast array of influences, they have released albums that touch on indie folk/rock, roots, art rock, alt country, psychedelia and pop, while maintaining a sound that is distinctly Blitzen Trapper. On their new studio effort, the group's years of experimentation and experience have come full circle, culminating in their strongest, most cohesive work to date with the career milestone, All Across This Land.
All Across This Land once again confirms that Blitzen Trapper possess the unique ability to create thoughtful, melodic, finely crafted songs on one hand, and deliver full throttle, infectious rock on the other. From the opening riff of the title track, this is quite evident as it unfolds into a flurry of guitars, bass and drums. The band also eases back, on the semiautobiographical "Mystery and Wonder", for example. The track's reflective and nostalgic tone was inspired by the band's beginnings, the chemistry that develops over time and the music they have created though the years.
While the album features some of Earley's finest songs to date, the rest of his bandmate's performances – Eric Menteer (guitar), Michael Van Pelt (bass), Marty Marquis (guitar/keys), Brian Adrian Koch (drums) – elevate each track thus taking Blitzen Trapper to their highest artistic peak yet.
Tracklist
1. All Across This Land
2. Rock and Roll (Was Made For You)
3. Mystery and Wonder
4. Love Grow Cold
5. Lonesome Angel
6. Nights Were Made For Love
7. Cadillac Road
8. Let the Cards Fall
9. Even If You Don't
10. Across The River