---
---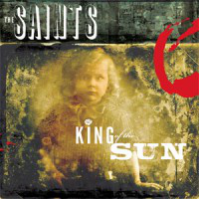 Format
---

FIRELP390

Long Player

£18.00
Label
---
King Of The Sun / King Of The Midnight Sun
---
2CD and 2LP release featuring 'King of the Sun' and a completely new recording with new versions of each track, titled 'King of the Midnight Sun'. With reversible artwork sleeve design.
The legendary former garage-punks, recently covered by Bruce Springsteen, break new ground with two albums that are the same - but different...
Why would a band re-record their new album in its entirety and then release them both at the same time? Because, as leader Chris Bailey puts it, "it's both sides of The Saints in one package". And so the deluxe debut European release of their "King of the Sun" features not only that album - a beautiful, expansive collection that harks back to Saints high points like "Ghost Ships" - but also a freshly recorded rock'n'roll take on exactly the same set of songs, recorded as live, and called "King of the Midnight Sun".
"I'm very proud of the studio album as a listening piece," says Chris. "It's lyrical, musical, an exploration of songwriting. 'Midnight' is more a celebration of the strengths of a rock band. There's a swagger on it that there isn't on the original."
The impetus for the added recording came from the recent reintroduction to The Saints of Barrington Francis, who played in the band from 1979 to 1989. "There's magic that happens when Barrington, Peter [Wilkinson, the drummer] and I get together," says Chris. "In this technological world where everything is nine million tracks on computer it's very important to retain the immediacy of rock'n'roll, to keep that earthy, organic, primitive side. If you can type, you can type an album these days, but there's something that happens when you rely on people playing together."
The Saints have reached a huge new audience thanks to Bruce Springsteen, who covered their "Just Like Fire Would" on his 2014 global No 1 album, "High Hopes". "Bruce told me: 'I bought the album when it came out and I've always really loved that song'," says Chris. "I'd known that he'd done the song live on his last tour, but I never in my wildest imagining thought he'd release it".
It's the latest development in the career of a band that found themselves at the forefront of the punk revolution with the release of their era-defining single "(I'm) Stranded" in 1976, ("NME" made it Single of the Week; "Sounds" made it Single of the Year; and EMI executives raced to sign them), that led to "Top of the Pops", and a stack of classic albums. Since then The Saints have one moment blasted out the most raucous rock'n'roll, and the next created some the most affecting, emotional lyricism, and often even done it at the same time.
Chris Bailey's songwriting has always been key to The Saints. "My job is to come up with vignettes that make sense on a poetic, intellectual and artistic level, and in the context of a rock'n'roll band, which is what I always want The Saints to be," he says. "The Saints aren't your average rock band. Never have been, never want to be. This is another manifestation of that."
"Worshipped... a truly great band" - NME
"More stage presence than an army of attitudinal hipsters and a back catalogue to kill for" - The Independent
"Chris Bailey, a distillation of [John] Lennon and... Van [Morrison], and one of the great punk larynxes" - Uncut
Tracklist
Disc 1:
1. King Of The Sun
2. A Million Miles Away
3. Sweet Chariot
4. Turn
5. Mystified
6. Duty
7. Road To Oblivion Part 2
8. All That's On My Mind
9. Craters On The Moon
10. Mini Mantra Part 1
11. Adventures In The Dark Arts Of Watermelonery

Disc 2:
1. King Of The Sun (Midnight Session)
2. A Million Miles Away (Midnight Session)
3. Sweet Chariot (Midnight Session)
4. Turn (Midnight Session)
5. Mystified (Midnight Session)
6. Duty (Midnight Session)
7. Road To Oblivion Part 2 (Midnight Session)
8. All That's On My Mind (Midnight Session)
9. Craters On The Moon (Midnight Session)
10. Mini Mantra Part 1 (Midnight Session)
11. Adventures In The Dark Arts Of Watermelonery (Midnight Session)