---
---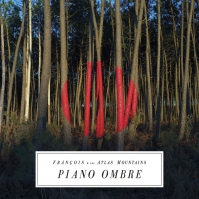 Formats
---

---

WIGLP321

Long Player

£18.00
Label
---
Piano Ombre
---
Domino are pleased to announce the release of the new album from Frà nçois & The Atlas Mountains, 'Piano Ombre'.
'Piano Ombre', the follow-up to 'E Volo Love', is Frà nçois' first album to be recorded in a bona fide studio (in Entre-Deux-Mers, the 'Between-Two-Seas', region near Bordeaux in France) and with a producer (Ash Workman - Metronomy / NZCA Lines).
'Piano Ombre' is a stunning and wide-reaching collection that reinvigorates the band's gene pool of influences - from Afro-pop to French chanson and Yéyé, mixed with more Anglo-phonic guitar-pop, like an aural atlas of gorgeous pop melody, zestful rhythm and lush ballads. It also manages to capture the ecstatic energy of the band's live performance.
Tracklist
Bois
La Vérité
The Way To The Forest
La Fille Aux Cheveux De Soie
Summer Of The Heart
La Vie Dure
Reveil Inconnu
Piano Ombre
Fancy Foresight
Bien Sur