---
---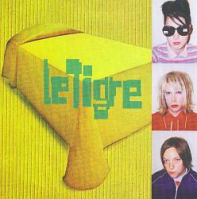 Format
---

WIJLP1108

Long Player

£16.00
Label
---
Le Tigre
---
'Le Tigre' was the debut studio album of American music trio Le Tigre.
It was originally released on October 26, 1999 by Wijja in the UK.
The album combined pop music with the band's feminist political lyrics.
Now regarded as a classic, 2015 sees the album being reissued on vinyl.
Tracklist
1. Deceptacon
2. Hot Topic
3. What's Your Take On Cassavetes
4. The The Empty
5. Phanta
6. Eau D' Bedroom Dancing
7. Lets Run
8. My My Metro Card
9. Friendship Station
10. Sideshow At Free University
11. Dude Yr So Crazy!!
12. Les And Ray