---
---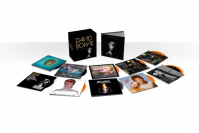 Formats
---

0825646284085

12 x CD

£100.00

Expected 25th September 2015

---

0825646284092

13 x Long Player

£200.00

Expected 25th September 2015
Label
---
Five Years 1969-1973
---
6 original studio albums: David Bowie AKA Space Oddity*, The Man Who Sold The World*, Hunky Dory*, The Rise and Fall Of Ziggy Stardust And The Spiders From Mars, Aladdin Sane and PinUps*. (*New remasters)
2 Live albums: Live Santa Monica '72, Ziggy Stardust: The Motion Picture Soundtrack
Exclusive to the set:
•Re:Call 1 a new 2-disc compilation of non-album singles, single versions & b-sides. Featuring a previously unreleased single edit of All The Madmen. And the original version of Holy Holy, which was only ever released on the original 1971 Mercury single.
•'The Rise and Fall Of Ziggy Stardust And The Spiders From Mars' (2003 stereo remix) by the album's original co-producer Ken Scott, previously only available on DVD with the LP/DVD format of the 40th anniversary edition of the album.
•Book: [ CD - 128 page book / Vinyl - 84 page book ], features rarely seen photos as well as technical notes about each album from producers Tony Visconti and Ken Scott, an original press review for each album and a short foreword by legendary Kinks front man Ray Davies.
•The CD box set includes faithfully reproduced mini-vinyl versions of the original albums, the CDs will be gold rather than the usual silver, an alternate cover for the 2003 mix of Ziggy Stardust by Ken Scott and newly originated artwork for the 'Re:Call 1' featuring a 1973 in-studio image from renowned photographer Mick Rock.
•The vinyl box set has the same content as the CD set on pressed on audiophile quality 180g vinyl.