---
---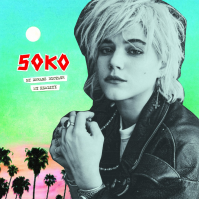 Format
Label
---
My Dreams Dictate My Reality
---
Standout tracks on the album include the steady bopping and unquestionably cool "Ocean of Tears" and the unapologetically Echo and the Bunnymen- and The Cure-esque guitar sounds of the title track.
Once a soft-spoken singer-songwriter, Soko's music quickly caught up with her untamable persona. Three years ago, Soko released her debut album "I Thought I Was An Alien," that featured the track "We Might Be Dead By Tomorrow", OST to the video "First Kiss" (about 100 million views).
The track skyrocketed to the Top 10 of the Billboard Charts and did about 11,5 million streams (No. 1 Debut On Streaming Songs). Soko has now revamped her once innocent yet morbid folk into an insolent follow-up record, "My Dreams Dictate My Reality," .
Produced by the legendary Ross Robinson (who also produced her favorite band, The Cure) the album features the hypnotic duet "Lovetrap" with friend and lo-fi wizard Ariel Pink also.
Tracklist
1. I Come in Peace
2. Ocean of Tears
3. Who Wears the Pants??
4. My Precious
5. Bad Poetry
6. Temporary Mood Swings
7. My Dreams Dictate My Reality
8. Monster Love (feat. Ariel Pink)
9. Peter Pan Syndrome
10. Lovetrap (feat. Ariel Pink)
11. Visions
12. Keaton's Song
13. Fantastic Planet (Bonus Track)