---
---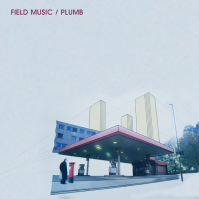 Formats
---

---
Label
---
Plumb
---
Vinyl is 180 gsm purple vinyl w/download code.
A new Field Music album is always a delicious proposition – and this, the band's fourth, offers much to sate the appetite. There are innumerable time signatures and gear shifts – a dozen just in the opener, Start the Day Right. However, perseverance brings rich rewards, as the complexities start to make a weird sense and you end up swept along in their ever-changing moods and a musical palette that stretches from the Beatles' Abbey Road-era orchestrations to XTC's jerky pop.
Where 2010's Field Music (Measure) sprawled over 70 minutes, Plumb crams 15 tracks into 35, never losing pop sharpness, whether funky – Is This a Picture? – or angular-anthemic – (I Keep Thinking About) A New Thing. There's an undercurrent of what Pink Floyd once called "quiet desperation … the English way" – to Sorry Again, Mate, or the beautiful, childhood reminiscing Hide and Seek to Heartache, but these are terrific songs worthy of celebration.
Tracklist
1 - Start the day right
2 - It's okay to change
3 - Sorry again, mate
4 - A new town
5 - Choosing sides
6 - A prelude to pilgrim street
7 - Guillotine
8 - Who'll pay the bills?
9 - So long then
10 - Is this the picture?
11 - From hide and seek to heartache
12 - How many more times?
13 - Ce soir
14 - Just like everyone else
15 - (I keep thinking about) a new thing

Field Music Rise Best Of Bonus CD Track List:

1 - Shorter Shorter
2 - If Only the Moon Were Up
3 - Got To Get The Nerve
4 - Tones of Town
5 - A House Is Not A Home
6 - In Context
7 - Rockist Part 1
8 - Rockist Part 2
9 - Scratch The Surface
10 - Its All Gone Quiet
11 - Lets Write A Book
12 - Choosing Numbers
13 - Them That Do Nothing