---
---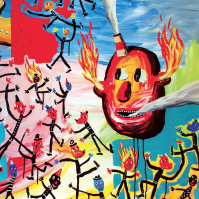 Formats
---

X

Double CD

---

STRUT130LP

Long Player

£15.00
Label
---
Quema Quema Quema
---
***Free Strut Records The Spring Sampler 2015 while stocks last***
"The only people for me are the mad ones, mad to live, mad to talk, mad to be saved and desirous of everything" Jack Kerouac, 'On The Road' (1957)
If 'On The Road' lead characters Sal Paradise and Dean Moriarty were modern day beatniks, they would find spirited company in Kanaku y El Tigre, a Peruvian collective who release their sophomore album (and first internationally), 'Quema, Quema, Quema', on Strut / Tiger's Milk in May 2015. 'Quema Quema Quema' ('Burn Burn Burn' in Spanish) is the product of two years honing the Kanaku sound at the band's Lima studio. The result is a record feverish in its intensity which screams with joy and cries for help in the same breath.
Back in 2010, their debut album 'Caracoles' (2010) brought Kanaku's creative duo Nico Saba and Bruno Bellatin considerable success in Peru with a set of quirky songs inspired by American folk. Five years on, 'Quema Quema Quema' has a whole different atmosphere - euphoric, unapologetically feel-good hooks littered with electronic jitters, ghostly delays, serene Hawaiian slide guitars and a chorus of other-wordly vocal harmonies.
Featuring ten songs including two sung in English, 'Quema Quema Quema' is led by the tortured, Impassioned vocals of lead singer Nico Saba and the musical relationship between he and Bruno is key. "With the new album, we have focused consistently on the melody and the song despite a multiinstrumental approach," explains Bruno. "We have always shared this process of dreaming up ideas - we both bring light and darkness into the room and use each other as creative mirrors."
'Quema Quema Quema' features some illustrious guest vocalists adding to the Kanaku palette: Almodovar actress Leonor Watling (star of 'Talk To Her'), Peruvian singer-songwriter Pamela Rodriguez and Cecimonster frontman Sergio Saba. Their strong musical partnership stems from the '90s, when, in their early teens, they were kicking the dust together in a punk band in downtown Lima. Now in their late twenties and both now bilingual having lived for periods in the UK and the States, their sound owes much to western music forms. Despite being very different characters with near opposite tastes in music, as life-long friends, they see the fruits of their creative partnership as a mutual appreciation living life charged, intense and always ready to 'Burn, Burn, Burn'. The lyrics of lead single, 'Si Te Mueres Manana' encapsulate the Kanaku philosophy: "if you die tomorrow, make sure you you've done everything you ever wanted". To complement the fluid production and sonic oddities peppering 'Quema Quema Quema', Argentinian graphic artist and cartoonist Ricardo Liniers brings his unique childlike surrealism to the album artwork.
Tracklist
1. Quema Quema Quema
2. Nunca Me Perdi
3. Pulpos (Feat. Leonor Watling)
4. Quien Se Queda Quien Se Va
5. Si Te Mueres Mañana
6. Bubucelas
7. 10 Años
8. Hacerte Venir (Feat. Pamela Rodriguez)
9. Burn Burn Burn (Feat. Sergio Saba)
10. Fin