---
---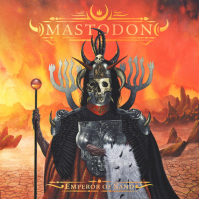 Formats
---

0093624914044

CD

£12.00

Expected 31st March 2017

---

0093624914051

Long Player

£26.00

Expected 31st March 2017

X

Double 180 Gram Vinyl.
Label
---
Emperor of Sand
---
Internationally celebrated heavy rock icons Mastodon release their eighth studio album, Emperor Of Sand - the follow-up to their universally praised 2014 Top Ten UK album Once More 'Round The Sun. Emperor Of Sand finds Mastodon returning to a deeply imaginative and complex conceptual storyline that ponders the nature of time. Threading together the myth of a man sentenced to death in a majestically malevolent desert, the band conjures the grains of a musical and lyrical odyssey slipping quickly through a cosmic hourglass. Emperor Of Sand was recorded at The Quarry Recording Studio in Kennesaw, just outside Mastodon's hometown of Atlanta, with producer Brendan O'Brien (Pearl Jam, Neil Young, AC/DC, Rage Against The Machine), who first worked with Mastodon on their seminal 2009 album Crack The Skye. Over the course of Mastodon's career, the band members have fearlessly continued to push themselves towards greater creative heights on their recorded output. Each studio album has united an ever-expanding worldwide legion of fans who have come to expect the unexpected twists and turns that have elevated Mastodon to become one of the most respected and influential creative forces in rock music.
Tracklist
1. Sultan's Curse
2. Show Yourself
3. Precious Stones
4. Steambreather
5. Roots Remain
6. Word to the Wise
7. Ancient Kingdom
8. Clandestiny
9. Andromeda
10. Scorpion Breath
11. Jaguar God