---
---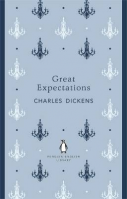 Format
---

5060069404206

Unknown Format

£7.00
Label
---
Great Expectations
---
"What do you think that is?' she asked me, again pointing with her stick; 'that, where those cobwebs are?"
"I can't guess what it is, ma'am."
"It's a great cake. A bride-cake. Mine!"
Pip, a young orphan, has his life altered irrevocably by a strange chain of events - a terrifying graveside encounter with an escaped prisoner; a visit to a black-hearted old woman and a beautiful girl; an unexpected fortune from a secret donor. Escaping his poor background for London, however, he finds that he cannot run away from who he really is.
Dickens's extraordinary late work, published in 1861, is a frightening, funny and tender portrayal of self-discovery and redemption. Its misguided hero, Pip, is one of the most moving and memorable characters in fiction.