---
---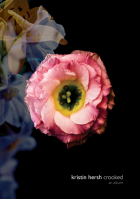 Format
---

9780007371860

Magazines + Books

£3.00
Crooked
---
Kristin Hersh, lead singer of Throwing Muses and successful solo artist, will be releasing her new studio album, Crooked, as a book. This is the first time any major recording artist has taken such a step which makes this a groundbreaking publication and one that we will be supporting with a massive publicity push.
Crooked, the book, will contain full colour artwork, lyrics and an exclusive essay by Kristin on each song.
Each copy will come with a digital code which unlocks a treasure trove of online content including:
• The full Crooked album.• Full recording stems for every track allowing fan remixes.• Track by track audio commentary by Kristin.• Exclusive video content.• Out-takes.• A forum enabling fans to interract with Kristin, ask questions, live web chats etc.• Sample chapters from her forthcoming memoir, Paradoxical Undressing.