---
---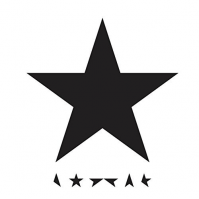 Formats
---

---

88875173871

Long Player

£25.00

X

Please note due to high demand this will ship as and when we receive restocks.
Label
---
Blackstar
---
David Bowie was born in 1947. Between the late '60s and the mid-'70s, he experimented with boundaries of musical genres and the potential of live performance and multi-media as applied to music, creating and discarding a variety of personae while releasing albums including The Man Who Sold The World, Space Oddity, Hunky Dory, The Rise and Fall of Ziggy Stardust, Aladdin Sane, Diamond Dogs, Young Americans (featuring "Fame," his first U.S. #1 single) and Station to Station.
In 1976 Bowie relocated to Berlin, enlisting Brian Eno and Tony Visconti to begin recording the albums that would become known as his "Berlin Trilogy": Low, "Heroes" and Lodger. In 1980 he made his Broadway debut in The Elephant Man and released the Visconti co-production Scary Monsters and Super Creeps followed in 1983 by his biggest U.S. commercial success to date, Let's Dance, co-produced with Nile Rodgers. Between the mid-'80s and early '90s, he worked with his band Tin Machine, collaborated with the dance company La La La Human Steps, and composed music for Hanif Kureishi's Buddha Of Suburbia.
In 1992 Bowie released one of rock's first CD-ROMs, Jump. In 1995, reunited once again with Eno, he produced the experimental Outside album, followed in 1997 by Earthling and in 1999 'Hours…,' the year he became a Commandeur dans L'Ordre des Arts et des Lettres.
Bowie's next project in 2002 was another recorded collaboration with Tony Visconti entitled Heathen. The accompanying live dates in Europe and America saw performances of Heathen as well as the classic Low both played in their entirety. A year later the Reality album was launched with the world's largest interactive 'live by satellite' event and was followed by the rapturously received and critically acclaimed A Reality Tour of the world.
2006 saw Bowie return to acting with the Christopher Nolan-directed box office topper The Prestige, adding to a cinematic CV including Nic Roeg's The Man who Fell To Earth, Martin Scorcese's The Last Temptation Of Christ, Tony Scott's The Hunger and Nagisa Oshima's Merry Christmas Mr Lawrence.
In May 2007, Bowie was the inaugural curator of the highly successful 10-day High Line arts and music festival in New York. That June, he was honored at the 11th Annual Webby Awards with a Lifetime Achievement Award for pushing the boundaries between art and technology. Later in 2007, Bowie starred as himself in an acclaimed episode of Extras, Ricky Gervais' series on HBO.
2012 saw the dedication of a plaque in Heddon Street, London (the scene of the Ziggy Stardust cover shoot) to commemorate the extraordinary influence of Ziggy Stardust and the Spiders from Mars and of course David himself.
In 2013, it was announced that the David Bowie Archive had given unprecedented access
to the prestigious Victoria and Albert Museum for David Bowie is…., an exhibition to be curated solely by the V&A in London. Marking the first time a museum has been given access to the David Bowie Archive, the exhibition has gone on to break records in the US, Berlin and France. David Bowie is…. is currently in Australia and will continue to tour the world for the foreseeable future, with its next stop being in the Netherlands at the end of 2015.
On January 8, 2013 on his 66th birthday, David Bowie suddenly and without fanfare, released a new single entitled 'Where Are We Now?' and announced the release of a new album titled The Next Day. Bowie's 27th studio album and first in 10 years, The Next Day hit #1 in 19 countries, was critically lauded the world over as standing alongside the best in his storied catalogue.
In 2014 David Bowie's 50th year in music was commemorated with the release of the compilation Nothing Has Changed, an career-spanning anthology of hits and obscurities. Bowie once again defied convention by opening the 3-CD deluxe edition of Nothing Has Changed with the seven-minute jazz murder ballad "Sue (or In A Season Of Crime)" featuring the Maria Schneider Orchestra. Bowie ended that same 50th anniversary year with the low key reveal of the demo track "'Tis A Pity She Was A Whore," an uncompromising piece pointing toward a possible future of even further experimentation.
Spring 2015 brought the announcement of the off Broadway theatre production Lazarus, a collaboration between Bowie and renowned playwright Enda Walsh, to be directed by Ivo Van Hove. Lazarus is inspired by the novel The Man Who Fell To Earth by Walter Tevis, and centers on the character of Thomas Newton, famously portrayed by Bowie in the 1976 screen adaptation. It will feature new Bowie songs alongside fresh arrangements of music from his back catalogue.
On October 6, 2015, an excerpt of Blackstar, a brand new original Bowie track, was revealed in the opening credits of The Last Panthers, a major new crime drama premiering across Europe on Sky Atlantic on November 12th.
On October 25 it was confirmed that Blackstar would be the title of both the forthcoming single and album from David Bowie. The single will be released on November 20th and the album will follow on David's birthday, January 8th 2016.
Throughout his 50-year career, David Bowie's work has always surprised, captivated and exhilarated. 2016 will be no exception.
Tracklist
1. Blackstar
2. 'Tis a Pity She Was a Whore [Explicit]
3. Lazarus
4. Sue (Or In a Season of Crime)
5. Girl Loves Me [Explicit]
6. Dollar Days
7. I Can't Give Everything Away