---
---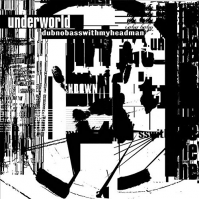 Formats
---

---

3790795

2 x Long Player

£22.00

X

Double Vinyl
Dubnobasswithmyheadman
---
'The most important album since The Stone Roses and the best since Screamadelica ... a breathtaking hybrid that marks the moment that club culture finally comes of age and beckons to everyone' Melody Maker
Two decades on from its release in 1994, the Melody Maker s statement about the stunning Dubnobasswithmyheadman is truer than ever. Put simply, it is one of the most influential British electronic records of all time.
To celebrate its twentieth anniversary the album has been meticulously remastered at Abbey Road for a deluxe reissue by Underworld s Rick Smith. Revisiting the original MIDI files, Rick uncovered a wealth of previously unreleased material and rare alternate mixes that sit alongside the record s original companion singles and remixes and offer a fascinating insight into the creation of the record. The resultant release is the definitive version of one of those rare records that truly deserves its iconic status.
This 5-CD Super Deluxe Box Set contains the original remastered album, associated singles and remixes, previously unreleased bonus tracks and an entire 7-song live jam plus a book containing memorabilia from the period and new artworks by design collective tomato.
Tracklist
Standard CD:
1. Dark & Long
2. Mmm...Skyscraper I Love You
3. Surfboy
4. Spoonman
5. Tongue
6. Dirty Epic
7. Cowgirl
8. River Of Bass
9. M.E.

2 Disc Deluxe CD:
Disc: 1
1. Dark & Long
2. Mmm...Skyscraper I Love You
3. Surfboy
4. Spoonman
5. Tongue
6. Dirty Epic
7. Cowgirl
8. River Of Bass
9. M.E.

Disc: 2
1. Eclipse
2. Rez
3. Dirty
4. Dark & Long
5. Spikee
6. Concord
7. Can You Feel Me?
8. Birdstar

5 Disc Boxset:
Disc: 1
1. Dark & Long
2. Mmm...Skyscraper I Love You
3. Surfboy
4. Spoonman
5. Tongue
6. Dirty Epic
7. Cowgirl
8. River Of Bass
9. M.E.

Disc: 2
1. The Hump (Wild Beast)
2. Eclipse
3. Rez
4. Dirty
5. Dirty Guitar
6. Dark & Long
7. Dark & Long
8. Spikee

Disc: 3
1. Mmm...Skyscraper I Love You
2. Cowgirl
3. Dark & Long
4. Mmm...Skyscraper I Love You
5. Dark & Long
6. Dogman Go Woof
7. Dark & Long

Disc: 4
1. Concord
2. Dark & Long
3. Mmm...Skyscraper I Love You
4. Mmm...Skyscraper I Love You
5. Can You Feel Me?
6. Birdstar
7. Dirty Epic
8. Spoonman
9. Organ
10. Cowgirl

Disc: 5
1. Mmm...Skyscraper I Love You
2. Improv 1
3. Bigmouth
4. Improv 2
5. Big Meat Show
6. Improv 3
7. Spoonman