---
---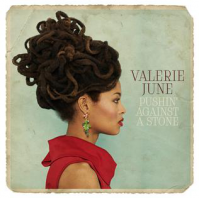 Format
Label
---
Pushin' Against A Stone
---
The debut album from Valerie June, titled 'Pushin' Against a Stone' due for release in May 2013, is now available to pre-order on heavyweight 12" Vinyl (including download code) and CD.
A self-taught musician, singer and song-writer from small-town Humboldt, Tennessee, Valeire honed her astonishing sound in the vibrant Memphis atmosphere, her spectrum of influences the history of music itself: Elizabeth Cotten, Leadbelly, The Carter Family, Whitney Houston, Van Morrison, Dolly Parton, Roscoe Holcomb, Woody Guthrie, Nico, Junior Kimbrough, Nina Simone, Bob Dylan, The Beatles, Nick Drake, Leonard Cohen, Joni Mitchell, Tracey Chapman, Billie Holiday, The Rolling Stones, Blind Lemon Jefferson, Mississippi John Hurt, Gillian Welch, Townes Van Zandt, Elmore James, Skip James, Blind Willie McTell, Memphis Minnie…
Her debut single 'Workin' Woman Blues' was revealed in November 2012 to much critical acclaim, with a performance on Later… with Jools Holland, BBC6 Music session, amongst other global radio stations, and a short European tour. 'Workin' Woman Blues' is a abona-fide blues-pop anthem, as if Bobbie Gentry fronted a Stax soul-revue, those mesmerising vocals telling it how it is: "I ain't fit to be no mother, I ain't fit to be no wife, yeah, I been workin' like a man, y'all, I've been working all my life."
The album 'Pushin' Against a Stone' was mostly recorded at Dan Auerbach's (The Black Keys) Easy Eye studio in Nashville, as well as L.A. and Budapest, and was produced by both Dan Auerbach and Kevin Augunas (Edward Sharpe & The Magnetic Zeros, Florence & The Machine).
Valerie supports Jake Bugg on his sold out UK tour in February 2013 with many more live dates to be announced, and look out for the next single due for release in March 2013.