---
---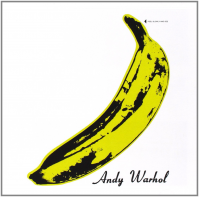 Format
---

X

Double CD
Label
---
The Velvet Underground & Nico
---
To celebrate the 45th anniversary of the The Velvet Underground & Nico, a special edition box set has been put together, featuring remastered versions of the album and previously unreleased material.
Also available on stanadard & deluxe CD and on LP.
Super Deluxe Edition Contents:
• Stereo and mono versions remastered from the original tapes
• Previously unreleased recordings of the band's rehearsals in Warhol's Factory
• Rare April 1966 Scepter Studios recordings
• Previously unavailable November '66 live concert performed by the Velvets' original, five-person lineup
• Nico's Chelsea Girl, an album released in October 1967
• An 88-page booklet featuring a new essay by band biographer Richie Unterberger.
Tracklist
Disc 1

The Velvet Underground & Nico (Stereo Version)

1. Sunday Morning
2. I'm Waiting For The Man
3. Femme Fatale
4. Venus In Furs
5. Run Run Run
6. All Tomorrow's Parties
7. Heroin
8. There She Goes Again
9. I'll Be Your Mirror
10. The Black Angel's Death Song
11. European Son

Alternate Versions:
12 . All Tomorrow's Parties (Alternate Single Voice Version)
13. European Son (Alternate Version)
14. Heroin (Alternate Version)
15. All Tomorrow's Parties (Alternate Instrumental Mix)
16. I'll Be Your Mirror (Alternate Mix)

Disc 2

The Velvet Underground & Nico (Mono Version)

1. Sunday Morning
2. I'm Waiting For The Man
3. Femme Fatale
4. Venus In Furs
5. Run Run Run
6. All Tomorrow's Parties
7. Heroin
8. There She Goes Again
9. I'll Be Your Mirror
10. The Black Angel's Death Song
11. European Son

The Singles:
12. All Tomorrow's Parties
13. I'll Be Your Mirror (Alternate Ending)
14. Sunday Morning (Alternate Mix)
15. Femme Fatale

Disc 3

Nico: Chelsea Girl
1. The Fairest Of The Seasons
2. These Days
3. Little Sister
4. Winter Song
5. It Was A Pleasure Then
6. Chelsea Girls
7. I'll Keep It With Mine
8. Somewhere There's A Feather
9. Wrap Your Troubles In Dreams
10. Eulogy To Lenny Bruce

Disc 4
Scepter Studios Sessions:

1. European Son (Alternate Version)
2. The Black Angel's Death Song (Alternate Mix)
3. All Tomorrow's Parties (Alternate Version)
4. I'll Be Your Mirror (Alternate Version)
5. Heroin (Alternate Version)
6. Femme Fatale 2.36 (Alternate Mix)
7. Venus In Furs (Alternate Version)
8. Waiting For The Man (Alternate Version)
9. Run Run Run 4.23 (Alternate Mix)

The Factory Rehearsals:
10. Walk Alone
11. Cracking Up / Venus In Furs
12. Miss Joanie Lee
13. Heroin
14. There She Goes Again (With Nico)
15. There She Goes Again

Disc 5
Live At Valleydale Ballroom, Columbus, Ohio:

1. Melody Laughter
2. Femme Fatale
3. Venus In Furs
4. The Black Angel's Death Song
5. All Tomorrow's Parties (Lou Reed)

Disc 6
Live At Valleydale Ballroom, Columbus, Ohio:

1. Waiting For The Man
2. Heroin
3. Run Run Run
4. The Nothing Song