---
---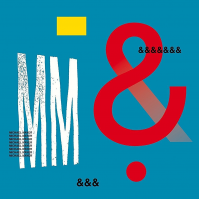 Formats
---

X

Comes with bonus CD of Remixes and Instrumentals.

---

K7337LP

Long Player

£15.00

X

Comes with bonus CD of Remixes and Instrumentals.
Label
---
&
---
Initial copies with a three track Bonus CD featuring - MM and Ed Macfarlane - Mind Games,
MM and Miss Kittin - Voyage Interieur and MM and Joe Goddard - For You. Michael Mayer is one of the leading German tastemakers in dance music and his DJ sets have influenced a generation (or two) of musicians and fans. As an artist, Mayer remains tirelessly motivated to DJing, in the studio or behind his desk at Kompakt, the label he co-owns. His recording career spans four albums, 23 EP's, nearly 170 remixes and the legendary DJ mixes for fabric and Immer. & is his third full-length, a passionate and personal album that speaks as broadly as his DJ sets - embracing his genre-busting love for music, rhythm and atmosphere – and the dance floorin front of him. & is the rare manifest of an established artist who is willing to risk it all and challenge himself, and the world around him. 12 tracks, 12 single narratives coming from a group of very individual minds orchestrated by Michael Mayer – the DJ, artist, A&R but most importantly, obsessed music lover. Michael describes the process of curating and creating & as a constant battle between his three alter egos but "the obsessed music lover has had the final say." As diverse as they are, all the tracks that result from this long and winding road create a cohesive story and present the elasticity of Mayer's musical galaxy. Michael gladly leaves it to the rest of the scene to discuss the different grey shapes of club culture. For him there is only one club culture – a playful and open-minded one that's easy to comprehend after you hear &. It features work with Roman Flugel, Miss Kittin, Joe Goddard, Prins Thomas etc.
Tracklist
1. & Roman Flügel - We Like To Party
2. & Burger / Voigt & Voigt - Disco Dancers
3. & Gui Boratto - State Of The Nation
4. & Ed Macfarlane - Mind Games
5. & Kölsch - Gemination
6. & Miss Kittin - Voyage Interieur
7. & Joe Goddard - For You
8. & Agoria - Blackbird Has Spoken
9. & Hauschka - La Compostela
10. & Prins Thomas / Irene Kalisvaart - Comfort Me
11. & Barnt - Und Da Stehen
12. & Andrew Thomas - Cicadelia