---
---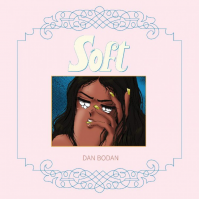 Formats
---

---

DFA2447

Long Player

£18.00
Label
---
Soft
---
Mixing traditional song-writing with intricately textured electronic production, Bodan shares a slice of his moist sounds in his new video for 'Soft As Rain'.

The video for the lead track from the forthcoming record shows a very intimate moment with Dan Bodan. As the first projection is an image of pink words strewn across the screen reading 'A soft pelt breeds wet dreams', you can only imagine what the rest entails…

"I write about the things I know, but it should be interesting for other people. So I want it to be like a really great roman-a-clef, or reading your older sisters diary." - Dan Bodan



Berlin based songwriter Dan Bodan was born in the wide open Canadian prairies and raised in Montreal. Reared on the city's underground noise and experimental music scene, Bodan moved to Berlin 8 years ago. Blossoming in the city's unique mixture of crumbling old-world European values, start-up philanthropy, sleepless techno and epic grey skies, he began writing songs to soundtrack his train rides through the city and make sense of it all. 


'Soft', the new album from Dan Bodan, is a rose-scented journey through millennial love issues, which was co-produced with Physical Therapy and Ville Haimala (Renaissance Man) and features M.E.S.H., 18+, Great Skin, Latisha Faulkner, Dena Yago, and Stadium. The album artwork for 'Soft'was designed by famed-artist Julien Ceccaldi who currently graces the cover of Artforum's Summer issue. The album will be available on Nov 17th via DFA records and a limited edition vinyl pre-order will soon be available.
Working together with a team of world-class producers, poets and artists, he writes songs to fit comfortably in that space between the finger and the mousepad, the bedroom and the club, the earth and the ether.
Tracklist
1. A Soft Opening
2. Anonymous
3. Romeo
4. Soft As Rain
5. For Heaven's Sake (Let's Fall in Love) <3
6. Reload
7. Jaws of Life
8. Rusty
9. Catching Fire
10. Good Time Summer