---
---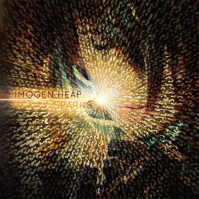 Formats
---

---
Label
---
Sparks
---
Says Heap, "The album began with someone sending in the sound of a striking match for what became Lifeline in March 2011. I then dived into the most immense, intense creative 2 and a half years of my life that took me all over the planet, collaborating on so many projects with so many people and often totally spontaneously. The album is then in some ways for me grounded with fans' footprints bringing the finishing touch for the album art, as so many of them came along for the ride."
"Sparks" will be available in two CD formats – a standard edition and a double disc casebound edition with instrumental versions of all tracks.
While working on "Sparks," Heap turned songs into projects and projects into songs to bring her out of her studio and 'let life in' rather than postponing things until her album was done. This fresh approach found Imogen collaborating with everyone from her fans to unsuspecting passers-by, gardeners to filmmakers, scientists to newspaper journalists and brings us her most diverse and daring body of work to date. From the River Thames (You Know Where To Find Me) to 5000 feet up in the Himalayas (Climb to Sakteng, Cycle Song), from her local community garden (Neglected Space) to 6 weeks in the Chinese metropolis of Hangzhou (Xizi She Knows), Heap was soaking it up, writing, developing, recording and producing. Inspired from the sounds of a dishwasher door, a Bhutanese dranyen, and the words of a crumbling wall to 700 fans' voices, Heap and her brilliant team created and developed the groundbreaking Mi.Mu musical gloves over this period (Me The Machine) and dabbled in generative and reactive music (Run-Time) connected to a jogging app. From the deeply personal love songs Propeller Seeds and Entanglement to the crowd sourced response to the Sendai earthquake (Lifeline), her trademark honesty runs through the album.
One of the songs will only be finished once she's dead! The Listening Chair whizzes us through her first 35 years in 5 minutes and will be added to every 7 years with another minute of a cappella song!
The brutal, playful and daring honesty Imogen has brought to us right from the start with first album iMegaphone (Lifeline, The Beast), sees "Sparks" draped in shades of the more electronic "Speak For Yourself" (Run-Time, Entanglement), the effortless elegance in some of Frou Frou's most loved (Telemiscommunications, Propeller Seeds) while boasting the lush orchestrations of "Ellipse" (You Know Where To Find Me, Climb To Sakteng, Cycle Song). Yet, as you'd expect Heap takes herself and us to completely new territory in both lyric and production (Neglected Space, The Listening Chair and Me The Machine).
Tracklist
1. You Know Where To Find Me
2. Entanglement
3. The Listening Chair
4. Cycle Song
5. Telemiscommunications
6. Lifeline
7. Neglected Space
8. Minds Without Fear
9. Me The Machine
10. Run–Time
11. Climb To Sakteng
12. The Beast
13. Xizi She Knows
14. Propeller Seeds

Bonus instrument disc with deluxe version:

1. You Know Where To Find Me (Instrumental)
2. Entanglement (Instrumental)
3. The Listening Chair (Instrumental)
4. Cycle Song (Instrumental)
5. Telemiscommunications (Instrumental)
6. Lifeline (Instrumental)
7. Neglected Space (Instrumental)
8. Minds Without Fear (Instrumental)
9. Me The Machine (Instrumental)
10. Run–Time (Instrumental)
11. Climb To Sakteng (Instrumental)
12. The Beast (Instrumental)
13. Xizi She Knows (Instrumental)
14. Propeller Seeds (Instrumental)