---
---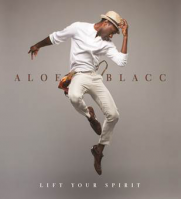 Format
---

3777303

Long Player

£10.00

X

Double Vinyl
Lift Your Spirit
---
Soul singer and songwriter Aloe Blacc — who co-wrote and provided vocals for Avicii's International hit single 'Wake Me Up' — will release his US Top 5 hit 'The Man' on March 30th. The track will feature on his upcoming album LIFT YOUR SPIRIT, which will be Blacc's first major-label debut via XIX Recordings/Interscope Records out April 7th.
'The Man' is an uplifting, feel-good track, which samples Elton John's classic 'Your Song'. LIFT YOUR SPIRIT follows up Blacc's collaboration as vocalist and co-writer on well-known DJ/producer Avicii's track 'Wake Me Up', a song that hit the Top 5 on the Billboard Hot 100 and #1 on its Hot Dance Club Songs and Dance/Electronic Songs charts, as well as in 102 countries around the world, including the U.K., where it was the third-biggest selling single of the year.
Born in Southern California to Panamanian parents, Blacc released his first hip-hop mixtape in 1996 and was associated with the indie hip-hop scene for many years thanks to his rap duo Emanon (alongside DJ Exile) and touring with the collective Lootpack before going solo. In 2006, he signed to Stones Throw Records and released his genre-bending debut solo album Shine Through, followed by 2010's Good Things, producing the world-wide hit song 'I Need A Dollar'. Good Things has sold more than 2 million units globally and has been certified gold in France, Germany, and the U.K. In 2012, Blacc was nominated for two BRIT Awards.
Tracklist
1. Wake Me Up
2. The Man
3. Soldier In The City
4. Love Is The Answer
5. Here Today
6. Wanna Be With You
7. Lift Your Spirit
8. Red Velvet Seat
9. Can You Do This
10. Ticking Bomb
11. Eyes Of A Child